Mold Removal & Inspection in Boston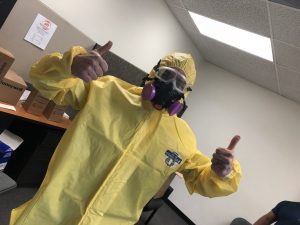 Are you dealing with a mold infestation in the Boston area? Mold can cause big problems if it is allowed to spread throughout your home or business in Boston, Quincy, or Lowell. This fungus can damage your property and the inhalation of mold spores can also lead to health issues such as:
Coughs and Throat Irritation
Wheezing and Trouble Breathing
The mold remediation specialists at 911 Restoration of Boston can help you get rid of a mold infestation right now. We are available 24/7/365 to provide you mold damage restoration and mold removal service in Boston so you can call us whenever you need help. Our mold removal techs can arrive at properties in Boston, Lowell, and Quincy within 45 minutes of an emergency call.
Call us at (617) 631-8450 and please allow our mold remediation specialist in Boston to offer you a free visual inspection.
You can get immediate answers about the severity of your mold infestation with a free visual mold inspection for property owners only. Our mold cleanup experts can develop a specialized plan to handle your unique needs.
Depending on your situation, the IICRC certified techs at 911 Restoration of Boston may:
Tear Out Materials Infested with Mold, Including Carpets
Focus on Removing Mold in Your Basement or On Your Walls
Use Professional-Grade Antifungal Chemicals for Mold Decontamination
Completely Repair and Restore Areas Damaged by Mold
You can get same-day mold remediation services in Boston, Quincy, and Lowell by calling the pros at 911 Restoration of Boston immediately. You deserve a Fresh Start after a mold infestation. Let us return your home or business to pristine condition so you can move forward with confidence.
What Happens During Mold Remediation in Boston?
Many property owners are unsure what to expect from the mold removal process. We believe that information can increase your peace of mind after a mold infestation. Our mold cleanup techs may handle your mold infestation by:
Using Air Scrubbers to Get Mold Spores Out of the Air
Isolating Areas Infested with Mold to Stop the Fungus from Spreading
Tearing Out Items Infested with Mold
Cleaning Furnishings Exposed to Mold
Completing Residential or Commercial Mold Decontamination
Depending on the results of your mold inspection, we may also take steps to address the causes of the mold infestation. Homes and businesses in Boston, Quincy, and Lowell typically experience mold problems after they are subjected to some form of water damage.
Leaking pipes, floods, sewage backups, and other issues can introduce excess moisture to your property. This moisture can allow mold to gain a foothold in your home or business. Mold infestations may be especially likely after a basement flood, as mold prefers to grow in damp, dark environments.
The pros at 911 Restoration of Boston are licensed, bonded, and insured to handle water damage restoration as well as mold removal.
Call water damage restoration quincy ma at (617) 631-8450 and see how we can help you.
How Soon Can You Get Professional Help with Mold Cleanup?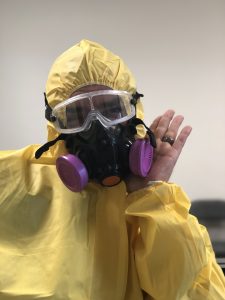 Mold can spread quickly once it infests homes or businesses in Boston, Quincy, and Lowell. Many times, mold lurks under floors and behind walls, creeping throughout your property where you can't see it. Property owners sometimes only notice they have a problem after the mold starts to generate a foul smell.
Fortunately, you can stop the spread of mold in its tracks by contacting 911 Restoration of Boston immediately. Our mold removal techs understand exactly what it takes to get rid of mold in the Boston area. We have the training and resources to:
Offer You a Mold Inspection and Information About Your Situation
Carry Out Total Mold Remediation in Your Property
Seek Out and Repair Any Leaks Leading to Mold Growth
Make Sure Mold Decontamination is Properly Handled
911 Restoration of Boston offers same day service to clients that call us for help handling a mold infestation. We know that your health could be at stake if your property is overtaken with mold, so our techs will get to work right away.
Learn About Mold Removal from Experts Today
You can rely on us if you need help with a commercial or residential mold infestation in Quincy and Lowell. The techs at 911 Restoration of Boston have the professional-grade equipment necessary to handle any type of mold infestation. We provide also water mold fire restoration in Boston, call water damage company braintree ma at (617) 631-8450 and learn how we can help.
Getting the help you need right away can give you back your peace of mind after mold invades your home or business. Let us isolate the mold in your property, remove items infested with fungus, and completely disinfect your home or business to return your property to better-than-new condition.
You can get a Fresh Start after a mold infestation. The mold removal crew at 911 Restoration of Boston is here to provide you with the dedicated service you need to completely repair and restore your home or business. Call today and let us give you the proper care that you deserve.
Serving the communities of Abington, Acushnet, Acton, Allston, Andover, Arlington, Arlington Heights, Ashland, Assonet, Attleboro, Auburndale, Avon, Bedford, Belmont, Beverly, Billerica, Boston, Braintree, Brighton, Brockton, Brookline, Burlington, Cambridge, Canton, Chelsea, Concord, Dedham, Dorchester, Dorchester Center, Dover, Dracut, East Boston, Everett, Fall River, Framingham, Franklin, Haverhill, Hingham, Holbrook, Hyde Park, Jamaica Plains, Lakeville, Lexington, Lawrence, Lowell, Lynn, Malden, Marlborough, Maynard, Medford, Melrose, Methuen, Milton, Natick, Needham, New Bedford, Newton, Newtonville, North Waltham, Norwood, Peabody, Plymouth, Quincy, Revere, Roslindale, Salem, Sherborn, Somerville, Sudbury, Suffolk County, Taunton, Waltham, Watertown, Weymouth, Winchester, Winthrop, Woburn and surrounding areas.