Water Damage Restoration in East Boston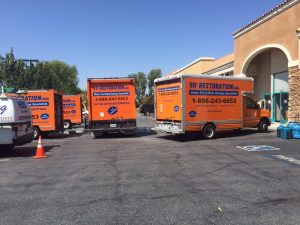 As a property owner in the East Boston area you know that property damage is one of the worst things that can happen to your property. While there are a number of different kinds of property damage, water damage is the most common and destructive. Anything from a leaky faucet to a pipe burst can result in a need for water damage restoration. Our IICRC certified technicians at 911 Restoration guarantee to arrive within 45 minutes whether you live in East Boston, Arlington, Pinehurst, or any other city in the Boston area ready to begin working on your water damage restoration, and if needed, your mold remediation.
After as little as 24 hours have past, any water that has collected makes a perfect environment for mold growth. If mold is discovered, then the only resolution is mold removal. However, getting the water damage restoration performed by professionals quickly can minimize the chances of mold remediation being needed.
Whether it's water damage restoration or mold remediation you can count on 911 Restoration to deliver a comprehensive solution and get you the Fresh Start you need for your property to be good as new.
Water Extraction
Water damage restoration is a complex process that requires a professional touch. At 911 Restoration, we have taken our years of experience and training and honed our process to perfection. As soon as we arrive on the scene, the first step is a visual inspection. The visual inspection helps determine the extent of the water damage along with an indication of any existing mold.
Once the inspection is complete, it's time for water extraction and drying. The technicians at 911 Restoration of Boston only use the latest commercial equipment to get your property completely dried out. In an effort to verify that all moisture is removed, we use infrared cameras to identify wet spots that are unnoticeable by the naked eye. This additional step ensures that the need to come back a few months later to perform mold remediation services is nonexistent.
After everything is dried out, we begin repair work to get the property back to its pre-damaged state. At 911 Restoration, everything from new walls to providing assistance with your insurance claim is taken care of with our emergency restoration services.
If you suspect mold or have noticed signs of water damage then don't hesitate to call 911 Restoration. We guarantee to arrive within 45 minutes to deliver the Fresh Start you deserve.
Flood Cleaning Service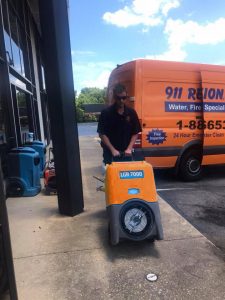 Sometimes water damage goes to a truly destructive level known as flooding. Most commonly, this shows up as a flooded basement thanks to the high possibility of a pipe burst occurring. When this happens, you need a professional flood cleanup service. Flood cleanup requires additional steps beyond the ones present with normal water damage restoration.
The reason for this is due to the water within the pipes. A pipe burst can result in gray water, which is full of dirt and debris or black water, which contains raw waste. Regardless of the type of water, protective gear is needed along with a decontamination step. Without decontamination, the chance of a mold infestation is much higher. 
After decontamination, the water extraction and drying stage can begin. If mold was discovered during the mold inspection, we will also perform mold decontamination to get the property back to good as new. If you have suffered from flooding, it is most likely covered by insurance. Thanks to our years of experience, we are equipped to assist you through the claims process so that you can get the relief you need when you need it.
Call 911 Restoration today whether you need a mold inspection, flood cleanup, or standard water damage restoration. We provide a comprehensive approach to our East Boston area residents you can count on for your Fresh Start.
Servicing the cities of Abington, Acushnet, Acton, Allston, Andover, Arlington, Arlington Heights, Ashland, Assonet, Attleboro, Auburndale, Avon, Bedford, Belmont, Beverly, Billerica, Boston, Braintree, Brighton, Brockton, Brookline, Burlington, Cambridge, Canton, Chelsea, Concord, Dedham, Dorchester, Dorchester Center, Dover, Dracut, East Boston, Everett, Fall River, Framingham, Franklin, Haverhill, Hingham, Holbrook, Hyde Park, Jamaica Plains, Lakeville, Lexington, Lawrence, Lincoln, Lowell, Lynn, Lynnfield, Malden, Marlborough, Maynard, Medfield, Medford, Melrose, Methuen, Milton, Natick, Needham, New Bedford, Newton, Newtonville, North Waltham, Norwood, Peabody, Pinehurst, Plymouth, Quincy, Randolph, Reading, Revere, Rockland, Roslindale, Salem, Sherborn, Somerville, Southborough, Stoneham, Stoughton, Sudbury, Suffolk County, Taunton, Wakefield, Waltham, Watertown, Wayland, Wellesley, West Newton, West Roxbury, Weston, Westwood, Weymouth, Wilmington, Winchester, Winthrop, Woburn, and surrounding areas.