Sanitization Services in Boston
As we battle a worldwide pandemic, many property owners in Boston are overwhelmed by the need to maintain clean spaces for family and customers. Coronavirus is spreading throughout our community rapidly. While social distancing and personal hygiene are key for slowing the outbreak, it's also essential that you deep clean your living and work space.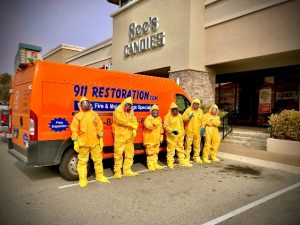 The CDC says coronavirus may remain viable on certain surfaces for as long as a few days. This means if your property was exposed to the virus two days ago, the virus may still be present in your home or business today. Unfortunately, you can't count on those carrying coronavirus to simply stay away. Symptoms can often take as long as two weeks to appear. This means even our conscientious neighbors could spread infection throughout the community without realizing it.
Your safest option to assume your home or business has been exposed.
If you own a home, sanitize regularly… especially after a member of your household has ventured out into public. Remember that the elderly and those with pre-existing medical conditions are at much higher risk of severe infection. For them, a coronavirus infection could include far more than a cough and fever. Infection could lead to serious complications or even death. If a vulnerable person lives in your home, be especially vigilant about disinfection procedures.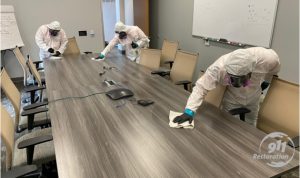 Business owners carry a unique burden, as their property is visited by many members of the larger community. It is impossible to police who comes and goes from your retail store or commercial facility. You will likely never know for sure whether coronavirus has entered your property. But for the sake of your employees and customers, you should assume it has. Offer your staff and patrons the reassurance that you sanitize regularly and take extreme precautions against contamination.
For added peace of mind, consider calling 911 Restoration of Boston for professional sanitization and disinfection. All our teams are trained to follow CDC and EPA protocols. We serve both residential and commercial properties in Boston and throughout the surrounding communities. Our technicians are thorough and dedicated to your wellbeing. At 911 Restoration, we seek to be a resource our neighbors can count on in the midst of any crisis. Even when it comes to a worldwide pandemic, you can turn to us for clear communication and a high standard of service.
The coronavirus outbreak will change us. But it will not define our community today or in the future. We'll get through this, and in the meantime, call water damage company braintree ma for service and support.