Water Damage in Boston
911 Restoration of Boston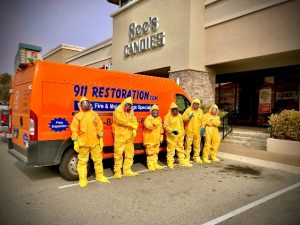 There is no telling when or how the disaster will strike. No matter what you're up against, turn to 911 Restoration of Boston for full-service property damage restoration.
Our IICRC certified technicians offer a wide range of services, including water damage restoration, fire damage restoration, sewage cleanup, and mold removal in Boston. They're even trained to help you rebuild fully after an uncommon and unexpected disaster. We serve both residential and commercial properties in Boston, Quincy, Somerville, and throughout the region.
At 911 Restoration, we take your disaster as seriously as you do. You can reach us 24 hours a day, every single day of the year for emergency restoration service. We even guarantee an arrival time of 45 minutes or less so you're not left waiting and worrying. Call us at (617) 631-8450 and allow us to offer you a free visual inspection.

Our technicians are extensively trained in full property restoration. Whether you've been through a frozen pipe burst, a property fire, or a flooded basement, they're equipped to make your home or business brand new again. At 911 Restoration, we believe every disaster is an opportunity for a Fresh Start. 
Our business is licensed, insured, and bonded. We are backed by a nationwide company, with extensive resources, experience, and insight. But 911 Restoration of Boston is also locally owned and operated. We value you as a neighbor, and that shines through in our service to you.
Whether you need professional flood cleanup or fire damage restoration, we know you likely worry about the cost of recovery. Our staff seeks to put your mind at ease with a free visual inspection (for property owners only) so you know what to expect. We also provide a free insurance consultation, as well as assistance filing your insurance claim.
Whatever you're going through, you don't have to do it alone. Call water damage company Braintree today.
Water Damage Restoration
911 Restoration has been providing flood cleanup in Boston, Lowell, and the surrounding communities for quite a while. Aside from common pipe bursts and washer machine floods, the local climate brings on countless water incidents. From ice dam destruction to blizzard damage, you can count on us to restore your property completely.
Our water damage restoration Canton technicians are available 24/7/365 and arrive in 45 minutes or less. They provide a wide range of emergency services, including storm repair, roof repair, boarding up, water extraction, and more. They minimize damage through swift action and by packing out and storing your unharmed items for safekeeping. Once the water damage restoration crew eliminates the water, they dry your space completely. They test the structure for damage and make any repairs necessary to maintain a safe and beautiful home or business.
Our experts even conduct a full mold inspection. Frozen pipe bursts and other water disasters often lead to mold contamination. Flooded basements are especially at risk of developing mold. We believe that your property isn't fully restored until every form of flood damage is gone. This includes mold.
Your property can be the same after water damage. For comprehensive water damage service in Stoughton, Brockton, and beyond, call 911 Restoration today at (617) 631-8450.
Service area map
Sanitization Services & Disinfection Solutions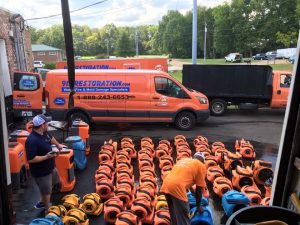 At this point, no one has remained unaffected by the coronavirus. This pandemic has achieved a global presence that affects both businesses and the people who interact with them. For this reason, we all need to do our part in making things as safe as possible. This includes taking the time to maintain our personal hygiene.
In the case of property owners, they have a responsibility to go a step further. This situation necessitates the use of professional services to make their buildings remain sanitized according to the latest protocols. With these protocols, the people who come and go will continue to remain as protected as possible. That's why 911 Restoration of Boston is ready and willing to perform sanitization services in addition to various disinfection solutions for both residential and commercial properties. All of our technicians adhere to the latest training to ensure their full compliance with all current CDC and EPA protocols in our effort to deliver optimal results with our sanitization services. As a community, we'll get through this pandemic. Trust in our technicians to deliver the peace of mind you deserve.
Mold Removal
Mold is sneaky and insidious. Without prompt mold remediation, an infestation spreads throughout your property, eating away the structure. In addition to property damage, mold contamination can be harmful to your health. To combat these concerns, you need a multi-step strategy from certified mold removal professionals.
Our mold remediation crew conducts a thorough mold inspection. They ensure every trace of mold is found. Then, they perform mold removal using the safest and most effective methods. After they've eliminated the infestation, our certified specialists use professional tools for structural dehumidifying. This step helps prevent mold from returning.
Don't wait until you see mold to call for a professional mold inspection. The fungus often thrives in walls and other hidden places. If you smell something suspicious or have unexplained physical symptoms, it's time for a mold inspection. It's also a good idea to call us if you've recently had a water damage incident…, especially a flooded basement. Our crew examines the space carefully to make sure you haven't developed basement mold.
Don't gamble on do-it-yourself mold removal. Call 911 Restoration at (617) 631-8450.
Sewage Backup Cleanup
When you have a sewage backup, our crew is there in 45 minutes or less… even in the dead of night. Sewage cleanup cannot wait. Blackwater brings disease-causing bacteria and parasites into your home or business. Water seeps into the structure of your property, causing warping and other damage. You're even at the risk of developing mold. There is absolutely no time to waste.
Our sewage cleanup technicians understand. That's why they move fast to extract the sewage and dry your space to its core. They sanitize the area completely, careful to ensure the safety of your family, your employees, and yourself. Our experts also test for damage and mold. If they discover a problem, they take care of it personally.
There are few things as horrifying as discovering a sewage backup on your property. But when you call 911 Restoration, you can count on a Fresh Start right away.
Fire and Smoke Damage
Whether need fire damage restoration, puff back cleanup, or smoke removal, look no further than 911 Restoration.
Our fire damage restoration crew has undergone extensive training to provide you with comprehensive property restoration. They handle everything you need, including soda blasting to remove soot and smoke, permanent odor removal, and surface cleaning. They even clean your dishes and furniture. Whatever has been destroyed, our fire damage restoration workers rebuild it. They're not done until your home or business feels brand new.
We even provide water damage restoration services for properties that have been flooded by the fire hose. 
Fire and smoke damage feels like the end of the world. But with 911 Restoration on your side, it's a fresh start. Call now for fire damage restoration in Boston, Quincey, and the surrounding communities. Call us at (617) 631-8450 and see how we can help.
Disaster Restoration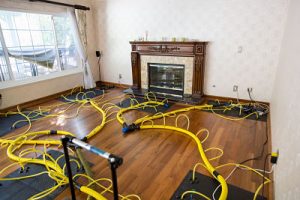 Sometimes a unique disaster strikes. When you feel that you're up against a one-of-a-kind nightmare, know that you can still turn to 911 Restoration of Boston. 
Whether the disaster is caused by nature or humans, whether it's widespread or your own unique challenge, call us. Our disaster restoration technicians are prepared for every eventuality. They handle the flood cleanup, fire restoration, mold decontamination, sanitization and disinfection, and much more. They have been trained to follow strict safety protocols, and they know how to rebuild any structure to brand new conditions.
Above all, our team is compassionate and customer-focused. Every member of our staff works hard to provide you with real solutions and peace of mind.
If you need disaster restoration, you'll find your best ally in 911 Restoration of Boston.
Commercial Restoration
Commercial properties come with their unique needs and demands. If you need water damage restoration, fire cleanup, or any other restoration service, time is of the essence. Property damage puts your business and your income at risk.
At 911 Restoration of Boston, we treat your emergency with the urgency it deserves. Our team understands what you're up against. We're here for you 24 hours a day, 7 days a week. We guarantee an arrival time of 45 minutes or less. And our technicians are experts in all aspects of commercial restoration. Whether you've been hit by water, fire, mold, sewage, or any other disaster, they've got it covered.
We also hold ourselves to the highest standard of service. We recognize that your commercial property represents the quality of your business. When our workers rebuild or repair your damage, they focus on making your space brand new again.
When you count on 911 Restoration of Boston, you count on a Fresh Start. Call us today at (617) 631-8450 for commercial restoration in Boston, Lynn, Lowell, and surrounding cities.