Water Damage in New Bedford
The humid continental climate of New Bedford generates extreme weather throughout the year, with hot, humid summers and freezing cold winters. Tropical storms, nor' easters, thunderstorms, and bomb cyclones can all cause extensive water damage and flooding in homes and businesses. Along with normal property wear and tear, there are many opportunities to experience all kinds of water damage on your property. Fortunately, 911 Restoration Boston is available 24/7/365 to provide water damage restoration in New Bedford. We guarantee to arrive within 45 minutes of receiving your call, ready to begin same-day water cleanup procedures.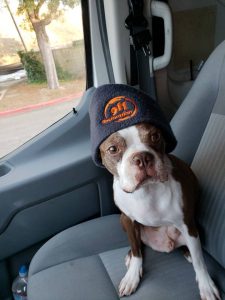 911 Restoration of Boston understands that quick water extraction is vital. Within 24 hours, stagnant moisture can lead to mold growth, which can impact both your property and your health.
We will begin the flood cleanup services by providing the property owner with a free water damage and mold inspection. By thoroughly surveying the home or business, our technicians can determine the extent and source of both issues.
You can depend on our technicians to conduct thorough water extraction, drying, and dehumidifying services. We will repair any situation you find yourself dealing with, such as basement flooding, pipe bursts, carpet water damage, ice dams, and mold.
When you hire 911 Restoration of Boston, you can rest assured the most accomplished restoration company is on the job. On top of hiring IICRC certified professionals, we are licensed, bonded, and insured for your protection.
Our staff strives to provide not only exceptional water damage restoration but unmatched customer service. We look forward to proving our dedication through top-notch leak and flood cleanup in New Bedford.
Call 911 Restoration of Boston the moment your property requires professional water restoration. You can trust that our professionals care and understand what you need to get through any disaster.
Mold Removal is Essential to Water Damage Restoration
911 Restoration of Boston is locally owned and operated by a staff that expertly understands how the weather patterns in New Bedford affect residential and commercial properties.
Throughout our experience providing water mitigation in New Bedford, we have seen how the humid, moisture-rich summers contribute to indoor mold infestations. We tend to find mold growth most inside leaky attics and flooded basements.
If the water damage is left to sit for only a few days, under the right conditions, the spores can grow throughout walls, ceilings, and flooring. To stop infestations from occurring, our technicians routinely check for signs of mold growth while conducting the water damage restoration.
Basement floods usually occur after bouts of heavy rainfall or particularly cold weather. Cracks in the property's foundation can allow water to seep into the underground space, creating substantial water leaks in the basement.
Pipe bursts are typically a product of freezing temperatures. When water turns to ice inside the pipe, it can crack the metal. Once the ice thaws, the water will spray out of the broken pipe, resulting in a flooded basement.
Mold can grow even during the cold months since most properties rely on central heating. The combination of water damage and mold can prove to be laborious, but our technicians will conduct comprehensive flood cleanup and mold decontamination to recover your property in full.
Basement flooding can also cause mold in carpet from water damage. Our technicians will disinfect the basement flood after flooding occurs, as well as remove water from carpet. If we can't save the furnishings, we will dispose of the moldy materials safely.
It is crucial to get the property as dry as possible to prevent future infestations. Our repair techs will administer drying and dehumidifying procedures to uphold the structural integrity of your property.
Call 911 Restoration of Boston when you need expert mold and water removal services. We are available for 24-hour emergency water cleanup to make sure you receive the help you need today!
A Flood Cleanup Company That Cares About You
911 Restoration of Boston has always emphasized the importance of customer service. We feel that customer care is as essential to your recovery as water restoration. You can count on us to make sure that your wellbeing is intact throughout the entire water cleanup process.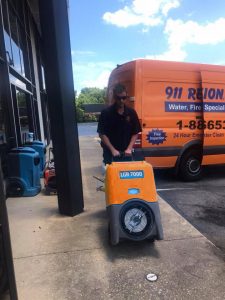 We understand that having repair workers going in and out of your property is challenging. However, you can be sure that our technicians will treat your home or businesses as if it were our own.
Our repair techs will conduct themselves with the utmost professionalism and treat your belongings with respect you deserve. If the situation requires the removal of your furnishings and personal effects, we will facilitate the pack-out and storage procedures to keep them safe.
When our technicians are on-site, you can have peace of mind knowing that we will guide you through all aspects of the water damage restoration, including the financial logistics.
Through our initial property inspection, our repair techs can give you an estimate of the water damage restoration cost per square foot. You will find that we provide affordable, high-quality services, as well as accepting all types of insurance.
If you need assistance in understanding your insurance policy, our staff will provide you with a free insurance consultation. We will directly bill your provider and submit your insurance claim for you.
911 Restoration of Boston makes water restoration quick and easy. Our goal is to have you feeling safe and sound in your property as soon as possible. With our help, you will see that our technicians will turn any water disaster into a Fresh Start today!
Servicing the cities of Abington, Acushnet, Acton, Allston, Andover, Arlington, Arlington Heights, Ashland, Assonet, Attleboro, Auburndale, Avon, Bedford, Belmont, Beverly, Billerica, Boston, Braintree, Brighton, Brockton, Brookline, Burlington, Cambridge, Canton, Chelsea, Concord, Dedham, Dorchester, Dorchester Center, Dover, Dracut, East Boston, Everett, Fall River, Framingham, Franklin, Haverhill, Hingham, Holbrook, Hyde Park, Jamaica Plains, Lakeville, Lexington, Lawrence, Lincoln, Lowell, Lynn, Lynnfield, Malden, Marlborough, Maynard, Medfield, Medford, Melrose, Methuen, Milton, Natick, Needham, New Bedford, Newton, Newtonville, North Waltham, Norwood, Peabody, Pinehurst, Plymouth, Quincy, Randolph, Reading, Revere, Rockland, Roslindale, Salem, Sherborn, Somerville, Southborough, Stoneham, Stoughton, Sudbury, Suffolk County, Taunton, Wakefield, Waltham, Watertown, Wayland, Wellesley, West Newton, West Roxbury, Weston, Westwood, Weymouth, Wilmington, Winchester, Winthrop, Woburn, and the surrounding areas.