Water Damage in Methuen
Methuen's humid continental climate creates abundant precipitation that can manifest all kinds of water damage in your home or business. Whether you find yourself dealing with a water leak or a flooded basement, 911 Restoration of Boston will provide emergency water damage restoration in Methuen. We understand that time plays a crucial role in determining a successful flood cleanup job. Our experts are available 24/7/365 to assist you immediately after the disaster takes place. Day or night, our technicians guarantee to arrive within 45 minutes of receiving your call.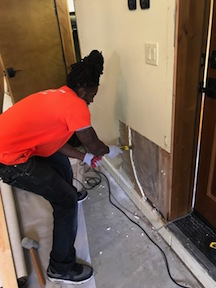 911 Restoration of Boston will never make you wait for leak and flood damage repairs. As soon as we arrive, our technicians will start the process by conducting a free water damage inspection and formulate an estimate.
As a locally owned and operated restoration company, 911 Restoration of Boston understands how the weather patterns in Methuen impact homes and businesses in the region.
Our technicians will strategize a water cleanup plan specifically designed for you. We are capable of providing complete water mitigation services, such as emergency storm repairs, basement flood cleanup, and pipe burst restorations.
We want you to feel confident in our ability to execute a successful water damage restoration strategy. 911 Restoration employs IICRC certified professionals that have reached the highest standards in the industry.
911 Restoration of Boston is licensed, bonded, and insured to ensure your protection under all circumstances. No matter how severe the water damage, you can trust that we've got your back.
Call the restoration company that cares and understands what you need to recover from a water disaster completely. Our technicians will get you the water removal and drying services you need today!
24-Hour Emergency Water Cleanup Right When You Need It
Seasonal weather patterns make basement floods a common problem in Methuen. Storms and cold spikes can create circumstances that significantly increase the chances of incurring a flooded basement.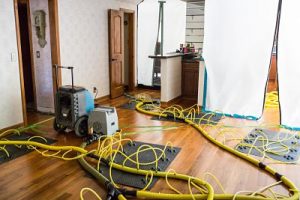 Not only can the torrential rain from a tropical storm invade your property, but freezing winter temperatures can cause pipe bursts. A pipe burst can allow hundreds of gallons of water to flood your property, creating substantial water damage.
The only way to minimize this damage is by reaching out for flood cleanup services as soon as you discover the water damage. 911 Restoration of Boston provides 24-hour home flood cleaning services, so you can be sure our technicians will assist you the moment you call.
Our technicians have mitigated many different types of plumbing problems over the years, some caused by climate and others by human error. The one constant that remains is the importance of maintenance.
By checking your property's pipes regularly, you can locate the source of the problem before a basement flood occurs. Even the smallest leak requires immediate action.
It only takes a small amount of moisture to cause serious issues, such as wood rot and mold growth. Mold can grow from water damage in as little as 24 hours, which is why we routinely check for signs of mold during the flood restoration.
Call 911 Restoration of Boston as soon as you need plumbing repairs or flood cleanup in Methuen. We will provide you with comprehensive water damage restoration that will leave your property looking better than new!
Exceptional Customer Service is Vital to Water Damage Restoration
911 Restoration of Boston knows everything about water damage, and throughout our experience, we have come to understand that customer service is vital.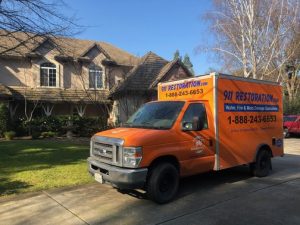 Making you feel safe and secure throughout the process is just as important to us as conducting the water damage restoration. The only way we can feel genuinely successful is to ensure your wellbeing is intact.
Understandably, it is challenging to learn that your home or business requires professional water removal services. We want you to feel as if you can come to us with all your questions and concerns. In the spirit of transparency, our staff aims to create a line of communication that is always open.
We realize you will have financial questions. If you want to know the basement water cleanup cost or price of pipe burst repairs, our onsite technicians can provide answers by conducting a free inspection and estimate.
Along with offering affordable, high-quality water mitigation services, we also accept all types of insurance. If you need help understanding your policy, we will provide you with a free insurance consultation.
We have worked with a lot of insurance companies over the years and fluently understand the submissions process. You can trust us to file your claim for you, ensuring that your provider gets all the necessary information to cover the repair services.
Call 911 Restoration of Boston when you need immediate, affordable assistance with your water emergency. Our technicians will guide you into the Fresh Start you deserve today!
Servicing the cities of Abington, Acushnet, Acton, Allston, Andover, Arlington, Arlington Heights, Ashland, Assonet, Attleboro, Auburndale, Avon, Bedford, Belmont, Beverly, Billerica, Boston, Braintree, Brighton, Brockton, Brookline, Burlington, Cambridge, Canton, Chelsea, Concord, Dedham, Dorchester, Dorchester Center, Dover, Dracut, East Boston, Everett, Fall River, Framingham, Franklin, Haverhill, Hingham, Holbrook, Hyde Park, Jamaica Plains, Lakeville, Lexington, Lawrence, Lincoln, Lowell, Lynn, Lynnfield, Malden, Marlborough, Maynard, Medfield, Medford, Melrose, Methuen, Milton, Natick, Needham, New Bedford, Newton, Newtonville, North Waltham, Norwood, Peabody, Pinehurst, Plymouth, Quincy, Randolph, Reading, Revere, Rockland, Roslindale, Salem, Sherborn, Somerville, Southborough, Stoneham, Stoughton, Sudbury, Suffolk County, Taunton, Wakefield, Waltham, Watertown, Wayland, Wellesley, West Newton, West Roxbury, Weston, Westwood, Weymouth, Wilmington, Winchester, Winthrop, Woburn, and the surrounding areas.