Water Damage in Dorchester Center
Different kinds of water damage can affect your property in a variety of ways. Flooded basements, sewage backups, pipe bursts, and water leaks can all cause extensive water damage. No matter how severe the situation, 911 Restoration of Boston guarantees to provide you with water damage restoration in Dorchester Center within 45 minutes. We keep our service agents available 24/7/365, so you can call us the moment you need flood cleanup services. Our technicians will immediately assess the damage by providing the property owner with a free visual inspection and estimate.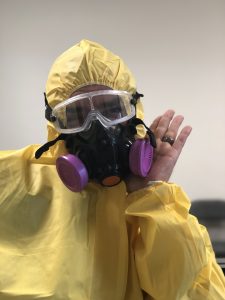 Our experts understand that left untreated, flood and leak issues can weaken the overall structural integrity of your property by creating mold infestations and wood rot.
However, by offering 24-hour home flood cleaning services, we can prevent these subsequent issues from affecting your property. We are also available around the clock to conduct commercial water cleanup services.
We want you to feel entirely at ease as soon as our repair techs arrive. 911 Restoration of Boston employs IICRC certified technicians and is licensed, bonded, and insured for your protection.
Since we are a locally owned and operated restoration company, our repair techs expertly understand how the climate affects homes and businesses in Dorchester Center.
Our technicians will create a water damage restoration strategy specifically designed for you. Whether dealing with the aftermath of a nor' easter or kitchen ceiling water damage, you can depend on us to repair your property in full.
Call 911 Restoration of Boston the moment you need leak repairs or flood cleanup in Dorchester Center. We will give you the peace of mind you need to get through any water disaster.
Commercial and Residential Water Damage Cleaning
Our technicians are experts at both residential and commercial restoration. We understand that homes and businesses alike are prone to feeling the impact of water damage.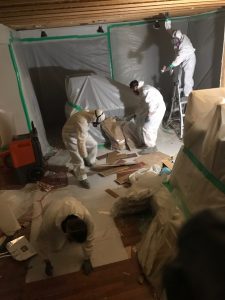 There are many opportunities for water to invade homes and businesses in Dorchester Center. Between tropical storms in the summer and nor' easters in the winter, leaks and floods are almost inevitable.
Regardless of how and when water damage appears on your property, you can count on us to respond quickly with same-day water damage restoration. Our technicians will thoroughly inspect the property to determine the source of the water intrusion and the extent of the damage.
In situations involving emergency flood cleanup, our repair techs will immediately contain the flooding and begin water removal services. Once the water extraction is complete, we will follow with intense drying and dehumidifying techniques.
The drying process is especially crucial in Dorchester Center when humidity levels are high. Wherever there is moisture, there is the chance of mold. However, we will minimize mold growth by implementing meticulous water mitigation.
Our technicians routinely check for signs of mold and mildew during the water cleanup. We will look in all the areas of the property that are susceptible to moisture issues. If we find mold in the carpet from water damage, our technicians will safely dispose of the textile and any other moldy materials.
You can trust us to handle all circumstances of water damage, no matter how complicated the situation. So, call 911 Restoration of Boston to find out how we can alleviate your residential or commercial property damage today!
A Flood Cleanup Company that Focuses on Customer Service
911 Restoration of Boston always makes you our top priority. Our staff will do everything necessary to make sure you are taken care of throughout the water damage restoration process.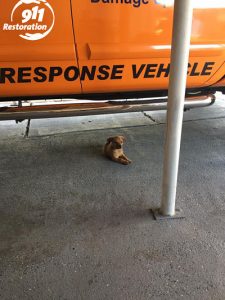 We hope to put your mind at ease by giving you all the information about the water damage. Our technicians always explain the details of the water extraction and drying procedures before the restoration work begins.
Along with providing expert water mitigation, we will assist you with the financial logistics. We pride ourselves on offering affordable water cleanup services and accepting all types of insurance.
If you need help understanding your insurance coverage, we will provide you with a free insurance consultation. Our staff members will make sure you fully understand your policy, so you receive the financial assistance you deserve.
The more information your provider has about the situation, the more coverage you will receive. Our technicians will help you take inventory of the damage to your property and belongings to create an itemized list of your losses.
We will directly bill your insurance company, as well as submit your claim for you. You can trust us to do whatever it takes to make the submissions process go as smoothly as possible.
So, call the team that cares and understands what you need from a restoration company. 911 Restoration of Boston will show you that a Fresh Start is possible today!
Servicing the cities of Abington, Acushnet, Acton, Allston, Andover, Arlington, Arlington Heights, Ashland, Assonet, Attleboro, Auburndale, Avon, Bedford, Belmont, Beverly, Billerica, Boston, Braintree, Brighton, Brockton, Brookline, Burlington, Cambridge, Canton, Chelsea, Concord, Dedham, Dorchester, Dorchester Center, Dover, Dracut, East Boston, Everett, Fall River, Framingham, Franklin, Haverhill, Hingham, Holbrook, Hyde Park, Jamaica Plains, Lakeville, Lexington, Lawrence, Lincoln, Lowell, Lynn, Lynnfield, Malden, Marlborough, Maynard, Medfield, Medford, Melrose, Methuen, Milton, Natick, Needham, New Bedford, Newton, Newtonville, North Waltham, Norwood, Peabody, Pinehurst, Plymouth, Quincy, Randolph, Reading, Revere, Rockland, Roslindale, Salem, Sherborn, Somerville, Southborough, Stoneham, Stoughton, Sudbury, Suffolk County, Taunton, Wakefield, Waltham, Watertown, Wayland, Wellesley, West Newton, West Roxbury, Weston, Westwood, Weymouth, Wilmington, Winchester, Winthrop, Woburn, and the surrounding areas.