Water Damage and Mold Removal in Lexington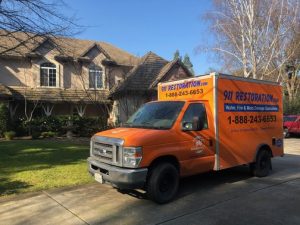 Get same-day help if you experienced a snowstorm, sewage backup, flood, or pipe burst in Lexington. The professionals at 911 Restoration of Boston provide Fresh Starts 24/7/365. IICRC certified water damage restoration and mold removal techs reach properties around Lexington within 45 minutes of an emergency call:
Assess your needs with a water damage inspection

Isolate damaged areas of your property

Begin fast water extraction and dehumidification

Repair damage caused by rising water

Check for fungal growth with a mold inspection

Handle comprehensive mold remediation
No job is too big or too small for us. Let us take care of business or house flooding for you. Lexington flood cleanup and mold decontamination techs are standing by to bring your property back to better-than-new condition. Get help if you're dealing with a pipe burst, frozen pipes, or a flooded basement in Lexington.
What Equipment Do Lexington Water Damage Restoration Techs Use?
Water damage restoration and mold removal in Lexington requires specialized equipment. Depending upon your situation, techs may utilize:
Professional-grade pumps for water extraction

Fans, air movers, and dehumidifiers to dry your property

Infrared scanners to hunt down hidden moisture

Plastic sheeting to quarantine damaged areas

Air filters to get rid of mold spores
Get a fast water damage and mold inspection in Lexington right now. Lexington mold decontamination techs develop a personalized flood cleanup and mold remediation plan based on the results of your water damage and mold inspection. This allows them to make sure that your property is brought back to perfect condition.
As a full-service mold and water removal company, 911 Restoration of Boston restores properties after they experience pipe bursts, flooding, and damage from winter storms. You can call flood cleanup and mold remediation techs if you have a flooded basement, a ceiling leak, or any other water damage emergency.
Does Insurance Cover Mold Remediation in Lexington?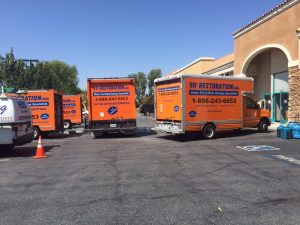 We understand that you may be worried about paying for flood cleanup and mold remediation in Lexington. Your property owner's insurance may cover the majority of the costs for water damage restoration and mold removal. However, insurance generally does not address damage caused by flooding or mold that was not promptly removed.
Fortunately, you can get same-day help with mold decontamination and water cleanup services by contacting 911 Restoration of Boston. Mold removal techs can take care of a pipe burst, flooded basement, or sewage backup for you. 
Work with a water extraction company that has the experience to fully restore your property after any water damage event. All Lexington water damage restoration and mold decontamination techs at 911 Restoration of Boston are licensed, bonded, and insured to handle your needs, including damage caused by a flooded basement. Let us get started by performing a water damage and mold inspection in Lexington.
Servicing the cities of Abington, Acushnet, Acton, Allston, Andover, Arlington, Arlington Heights, Ashland, Assonet, Attleboro, Auburndale, Avon, Bedford, Belmont, Beverly, Billerica, Boston, Braintree, Brighton, Brockton, Brookline, Burlington, Cambridge, Canton, Chelsea, Concord, Dedham, Dorchester, Dorchester Center, Dover, Dracut, East Boston, Everett, Fall River, Framingham, Franklin, Haverhill, Hingham, Holbrook, Hyde Park, Jamaica Plains, Lakeville, Lexington, Lawrence, Lincoln, Lowell, Lynn, Lynnfield, Malden, Marlborough, Maynard, Medfield, Medford, Melrose, Methuen, Milton, Natick, Needham, New Bedford, Newton, Newtonville, North Waltham, Norwood, Peabody, Pinehurst, Plymouth, Quincy, Randolph, Reading, Revere, Rockland, Roslindale, Salem, Sherborn, Somerville, Southborough, Stoneham, Stoughton, Sudbury, Suffolk County, Taunton, Wakefield, Waltham, Wayland, Wellesley, West Newton, West Roxbury, Weston, Westwood, Weymouth, Wilmington, Winchester, Winthrop, Woburn… and surrounding areas.