Water Damage in Quincy
Owning a property in Quincy requires regular maintenance. The weather patterns in the area have proven to be harsh, creating abundant precipitation throughout the year. 911 Restoration Boston is standing by around the clock, just waiting to recover your property from leak and flood damage. Our technicians understand that we need to conduct water damage restoration quickly to prevent mold, structural damage, and rot. We stay available 24/7/365 to help you the moment you need assistance. You will never have to wait for help because our repair workers guarantee to arrive within 45 minutes of receiving your call.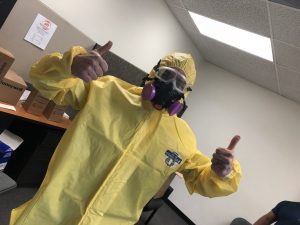 The only way to avoid permanent damage after a leak or flooding incident is to receive professional water removal and drying services as quickly a possible after you discover the water damage.
Our technicians will immediately start the water cleanup process by providing the property owner with a free water damage and mold inspection. This initial assessment will allow us to formulate an estimate of the repair work needed.
You can trust us to fix any situation, from flooded basements and pipe bursts to ceiling leaks and mold growth. We have prepared our technicians to handle everything so you can feel totally comfortable under our care.
Our entire restoration company is licensed, bonded, and insured, so you can feel completely protected when you hire our team. 911 Restoration of Boston employs IICRC certified technicians that have reached the highest standards in the industry.
So, call 911 Restoration of Boston as soon as you discover any signs of water damage or mold in your residential or commercial property. Our technician will use all of our resources to get your property looking better than new before you know it!
Ice Dams Can Lead to Indoor Water Damage and Mold
Winters in Quincy bring snowstorms and freezing temperatures that can significantly impact your home or business.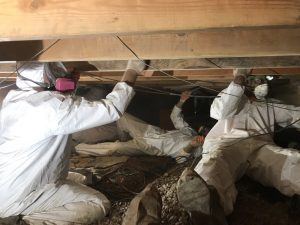 When the outside temperature is below freezing, your roof's surface may still be warm enough to cause the bottom layer of snow to melt. This snowmelt will flow down the shingles and flood the gutters, where the water will melt into large icicles.
These icicles can form an ice dam that will continue to get larger and heavier as the snowmelt increases.
However, not all the snowmelt will freeze. Instead, water will back up onto the roof, where it can leak into cracks and get into the attic, ceiling insulation, and walls.
When moisture from an ice dam invades the property, not only will it cause extensive water damage, but mold and mildew problems, as well. Condensation will form from the combination of the warm indoor air and cold outdoor temperatures. These conditions will allow mold to grow in as little as 24 hours.
Our technicians have years of experience mitigating ice dams and understand that swift water damage restoration is crucial in these situations. We will arrive ready to perform immediate leak repairs and water removal.
Our repair techs will thoroughly inspect the roof and attic to locate all leaks contributing to the water damage. We use infrared leak detection technology to ensure we discover all the moisture spots in the area.
Drying and dehumidifying services are also vital to your recovery. Any lingering moisture will create a mold infestation that can quickly spread throughout the property. If our technicians discover any signs of an infestation, we will conduct mold remediation procedures to ensure the safety of both your property and your health.
Call 911 Restoration of Boston the moment your property requires assistance with water damage and ice dams in Quincy. We will provide the water damage restoration needed to repair your property in full today!
We Turn Leaks and Floods into Fresh Starts
You don't have to live with water damage in your home or business. Allowing water to stagnate on your property can impact its structural integrity, as well as create a habitat for mold.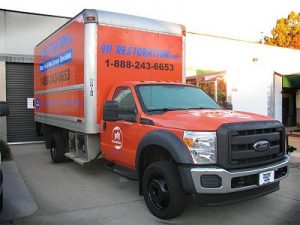 911 Restoration of Boston will explain everything about water damage, mold, and how these elements can impact your life. When you need questions answered, our staff members are available to give you all the necessary information to put you at ease.
Customer care is our top priority. We understand that dealing with leaks and floods are challenging. By providing you with exceptional customer service, we hope to give you peace of mind about the water damage restoration process.
You can trust our experts to help you with whatever you need, including assisting you with the financial aspect of the water restoration. We consistently offer competitively priced services and accepts insurance.
Over the years, 911 Restoration of Boston has worked with all different types of insurance companies. We offer free insurance consultations to make sure you fluently understand your policy.
We realize that the more information your provider receives, the more coverage they will provide you. Our onsite technicians will help you take inventory of your property losses to submit with your insurance claim. We will completely handle the submissions process and directly bill your provider.
So, call 911 Restoration of Boston when you need comprehensive water damage restoration in Quincy. Our highly trained technicians care and understand what you need to get through any water disaster and into a Fresh Start today!
Servicing the cities of Abington, Acushnet, Acton, Allston, Andover, Arlington, Arlington Heights, Ashland, Assonet, Attleboro, Auburndale, Avon, Bedford, Belmont, Beverly, Billerica, Boston, Braintree, Brighton, Brockton, Brookline, Burlington, Cambridge, Canton, Chelsea, Concord, Dedham, Dorchester, Dorchester Center, Dover, Dracut, East Boston, Everett, Fall River, Framingham, Franklin, Haverhill, Hingham, Holbrook, Hyde Park, Jamaica Plains, Lakeville, Lexington, Lawrence, Lincoln, Lowell, Lynn, Lynnfield, Malden, Marlborough, Maynard, Medfield, Medford, Melrose, Methuen, Milton, Natick, Needham, New Bedford, Newton, Newtonville, North Waltham, Norwood, Peabody, Pinehurst, Plymouth, Quincy, Randolph, Reading, Revere, Rockland, Roslindale, Salem, Sherborn, Somerville, Southborough, Stoneham, Stoughton, Sudbury, Suffolk County, Taunton, Wakefield, Waltham, Watertown, Wayland, Wellesley, West Newton, West Roxbury, Weston, Westwood, Weymouth, Wilmington, Winchester, Winthrop, Woburn, and the surrounding areas.