Water Damage and Mold Removal in Waltham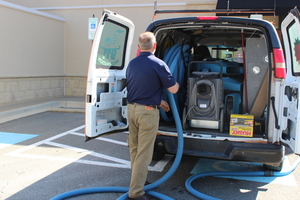 You don't have to wait to get a Fresh Start after a flood, blizzard, or pipe burst in Waltham. The water damage restoration and mold removal professionals at 911 Restoration of Boston are on-call 24/7/365. As a locally owned and operated company, IICRC certified flood cleanup techs can reach your property within 45 minutes of the time you call. Crews will come prepared to offer you:
Emergency Water Extraction

Emergency Roof Repairs

Emergency Boarding Up

Emergency Pack Out and Storage
Here at 911 Restoration of Boston, water damage restoration techs aren't just here to help during the initial emergency. Flood cleanup techs can assist you if you're dealing with a flooded basement after a snowstorm.
Call us at (617) 631-8450 and please allow us to offer you a free visual inspection.
Let us assess your unique property needs with a water damage restoration, water damage repair and mold inspection in Waltham. Crews can search your property for all signs of water damage while developing a personalized water damage restoration and mold remediation plan. Our years of training and experience mean techs will be fully prepared to:
Extract Water from Your Property

Dry Out All Traces of Remaining Moisture

Wipe Out Odors with Mold Decontamination

Renovate and Restore Your Home or Business
Getting professional help quickly can reduce the total amount of time it will take to repair your property. Contact us now and techs can provide you with same-day help with flood damage restoration, water damage repair, and mold remediation in Waltham.
What Should You Look for in a Water Damage Restoration Company?
Water damage restoration service in Waltham should be handled by experts who have the training and experience to complete the job quickly and correctly. You need to reach out to a company with techs who are:
IICRC Certified to Handle Flooded Basements and Sewage Spills

Licensed, Bonded, and Insured for Commercial and Residential Restoration

Armed with Top-of-the-Line Restoration Equipment

Trained to Deal with Blizzards, Summer Storms, and Plumbing Emergencies

Experienced with All Local Insurance Companies
The flood cleanup and mold removal techs at 911 Restoration of Boston offer you all of the above benefits. Techs are local, which means they can also reach your property quickly, reducing the amount of time that water can damage your property after a pipe burst, snow storm, or sewage backup. Call us at (617) 631-8450 and see how we can help you.
Our water damage experts in Waltham believe you deserve to get back your peace of mind after a water damage emergency. Let us assess your needs with a water damage and mold inspection. Crews can get water out of your property and begin immediate mold remediation for you.
Handling water damage cleanup and mold decontamination in Waltham quickly can reduce the total damage to your property. Working with highly trained techs can ensure that flood cleanup is completed properly the first time, whether you're dealing with a frozen pipe, ice dam, or flooded basement in Waltham. Let us focus on returning your property to perfect condition, starting right now.
Will You Need Mold Remediation in Waltham After a Flood?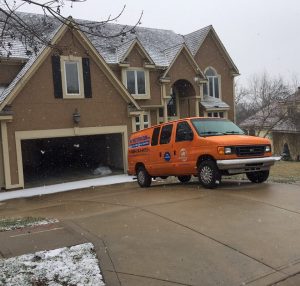 Mold generally needs a damp and dark environment to grow. This means that a flooded basement may present mold with the perfect environment to grow and spread. However, you may not experience a mold infestation after a flood, pipe burst, or blizzard, especially if you begin water extraction quickly.
Waltham flood cleanup techs can check for signs of fungal growth with a mold inspection as they take care of:
Removing Water from Your Property

Drying Your Property with Dehumidifiers

Repairing the Damage Caused by Frozen Pipes

Fixing a Pipe Burst or Leaking Pipe

Addressing Snow Damage to Your Home or Business
Mold removal crews can begin mold decontamination quickly if they spot signs of fungus at any point during water damage restoration in Waltham. They can focus on signs of a fungal infestation with a mold inspection. As a full-service property restoration company, 911 Restoration of Boston can deal with flooding, sewage cleanup, and mold removal, water damage remediation in Waltham. This means you won't have to scramble to find a different company to help if you are dealing with mold growth. Call us at (617) 631-8450 and learn how we can help.
Let us take the stress out of property restoration after a winter storm or a plumbing emergency. Techs have the equipment and training to deal with any water damage event, including a flooded basement or a pipe burst. We can also handle mold remediation quickly, preventing mold from spreading further into your home or business.
Get a Fresh Start after a water damage emergency in Waltham. Let us handle ceiling leaks, carpet water damage, basement flooding, or crawl space clean up. Mold decontamination techs are available around the clock, year-round, to help with summer hurricanes and winter blizzards, so contact us now.