Water Damage Restoration in Arlington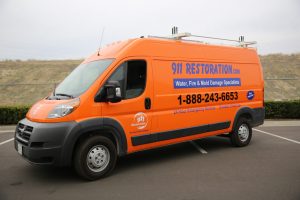 In the Boston area, water damage is a common occurrence from Arlington to Hyde Park and everywhere between. Whether it's thunderstorms, a burst pipe, or a leaky appliance hose the need for professional water damage restoration services from IICRC certified professionals is always a possibility. Since water damage can happen anytime, we make ourselves available 24/7/365 ready to help you with any water damage restoration or mold remediation you need. No matter where you're located in the Boston area, we guarantee to arrive within 45 minutes of receiving your call.
At 911 Restoration, we believe in a comprehensive approach due to the nature of water damage. Water not only causes property damage by itself, but it also makes a perfect breeding ground for a mold infestation. The possibility of two types of property damage being present is why you need professionals like those at 911 Restoration to handle your emergency restoration.
Whether you live in Arlington or out in Woburn, you can count on 911 Restoration for everything from flood cleanup to mold inspection. We'll be there within 45 minutes working on your Fresh Start.
Water Damage Emergency
Anytime water damage occurs, it's an emergency that requires prompt and professional action. At 911 Restoration, we combine our training and experience with an industry leading IICRC certification to deliver a flawless water damage restoration to our Arlington and surrounding Boston area customers. As soon as we arrive, we start with a visual inspection. The inspection allows us to determine how severe the water damage is, and it helps us ascertain if any mold growth has already begun. If so, then you will need mold remediation services as well.
Once the inspection is complete, we have a plan of action that we begin executing immediately. We use nothing less than state-of-the-art equipment to perform your water extraction and drying. The sooner we get the property completely dried out, the less chance there is for any mold to develop. We believe in a complete approach to your water damage restoration. By doing the job correctly the first time, the need for mold removal can be avoided.
If you suspect mold or water damage, then don't wait to make the call. We'll be there within 45 minutes to handle every aspect of your water damage restoration including pip burst restoration and mold inspections. Get the Fresh Start you deserve.
Basement Flood Cleanup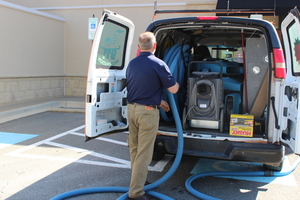 The basement is a perfect environment for flooding. A flooded basement can occur easily thanks to the pipes that are present. A pipe burst results in an automatic need for flood cleanup and is a more complex process than just standard water damage restoration. Should a flooded basement happen, a prompt call to flood cleanup professionals is needed.
The need for professionals is increased due to the kind of water within basement pipes. The pipes can be normal and produce gray water or it can be a septic pipe. A septic pipe contains black water, which has raw waste within the water. Since raw waste is a class three material, hazmat gear is necessary to properly perform the flood cleanup. Black and gray water will also increase the possibility of needing mold removal services thanks to the contaminants within the water.
At 911 Restoration, we perform a decontamination process before proceeding to our combination of drying and water extraction. Depending on the level of flooding, type of water, and if mold is discovered we may also perform mold decontamination on the affected area. Once the area is completely dry and decontaminated, we proceed to restore and repair anything that was damaged by the pipe burst or other causes of flooding.
Whether it's mold decontamination, flood cleanup, or just standard water damage restoration you can count on 911 Restoration to take care of the problem. Don't wait to get the Fresh Start you need.
Servicing the cities of Abington, Acushnet, Acton, Allston, Andover, Arlington, Arlington Heights, Ashland, Assonet, Attleboro, Auburndale, Avon, Bedford, Belmont, Beverly, Billerica, Boston, Braintree, Brighton, Brockton, Brookline, Burlington, Cambridge, Canton, Chelsea, Concord, Dedham, Dorchester, Dorchester Center, Dover, Dracut, East Boston, Everett, Fall River, Framingham, Franklin, Haverhill, Hingham, Holbrook, Hyde Park, Jamaica Plains, Lakeville, Lexington, Lawrence, Lincoln, Lowell, Lynn, Lynnfield, Malden, Marlborough, Maynard, Medfield, Medford, Melrose, Methuen, Milton, Natick, Needham, New Bedford, Newton, Newtonville, North Waltham, Norwood, Peabody, Pinehurst, Plymouth, Quincy, Randolph, Reading, Revere, Rockland, Roslindale, Salem, Sherborn, Somerville, Southborough, Stoneham, Stoughton, Sudbury, Suffolk County, Taunton, Wakefield, Waltham, Watertown, Wayland, Wellesley, West Newton, West Roxbury, Weston, Westwood, Weymouth, Wilmington, Winchester, Winthrop, Woburn, and surrounding areas.