Water Damage Restoration in Bedford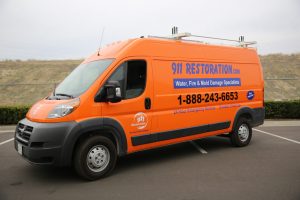 For property owners in Bedford and surrounding Boston area, water damage restoration services are needed more often than desired. Whether it's a leaky appliance hose, burst pipe, or a roof leak water damage is a common occurrence that requires professional intervention. 911 Restoration provides IICRC certified technicians trained to handle all aspects of your water damage restoration and any needed mold remediation. We guarantee to arrive within 45 minutes of your call regardless of your location in the surrounding Boston area.
When the water has been left standing for at least 34 hours, it creates the perfect environment for mold to grow and spread. As a result, prompt water damage restoration can be the difference in whether you need mold removal services or not. If you suspect mold has already started growing, we provide mold inspections in addition to our other services.
Whether you need mold decontamination or full water damage restoration don't hesitate to call 911 Restoration. We'll be there for our Bedford residents and other cities in the surrounding Boston area ready to deliver a Fresh Start you can depend on.
Water Cleanup Services
Water damage restoration requires a comprehensive approach centered around drying the property out along with performing any water cleanup services needed. Our years of experience and training paired with industry-leading IICRC certifications have allowed us to hone our restoration process to flawless perfection. We accomplish this by performing a visual inspection before unloading a single piece of equipment. This allows us to develop an action plan and check for any signs of mold growth while we're at it.
Once we have our action plan, we unload the latest in water extraction and drying equipment to get the property dry as a bone. We believe in a thorough job, which is why we use infrared cameras to pick up on any wet spots missed by the naked eye. Doing this ensures we won't have to make a return trip to take care of your mold remediation. With 911 Restoration of Boston, the job gets done quickly and correctly the first time.
Once water cleanup is complete, we're ready to perform any needed repairs to get your property back to good as new so you can get back to normal. Whether you need new walls or help filing the insurance claim so you can replace the furniture, we're there for our Bedford residents.
As soon as you're aware of any water damage or suspect mold call 911 Restoration. We'll be there to help with your flood cleanup, mold removal, and overall water damage restoration. That's part of our Fresh Start guarantee.
Flood Damage Restoration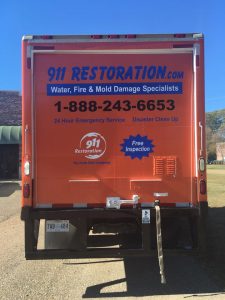 The most destructive type of water damage is when flooding occurs. The most common example of this is a flooded basement thanks to the likelihood of a burst pipe. Should flooding occur, you will need flood damage restoration aka a flood cleanup. With a flood cleanup, the water needs to be analyzed for possible contaminants as certain types of water can be hazardous to your health.
Water from pipes is either gray because it contains dirt, debris, and other materials or black because it contains raw waste. Should either type be present, protective hazmat geat is donned and an additional step in the water damage restoration process is performed. Before extraction can occur, we perform decontamination to get the area sanitized. Once that is complete it's time for drying and water extraction. 
If the water is black water or if mold is discovered, we may provide additional decontamination including mold decontamination which involves the use of containment measures. Most homeowners have flood insurance and our years of experience have made us uniquely qualified to assist with the claim process. In fact, we can file the claim on your behalf if you desire us to do so.
At 911 Restoration, we take care of everything from flood cleanup to mold remediation. Call today for the Fresh Start you need. We'll arrive within 45 minutes ready to get to work.
Servicing the cities of Abington, Acushnet, Acton, Allston, Andover, Arlington, Arlington Heights, Ashland, Assonet, Attleboro, Auburndale, Avon, Bedford, Belmont, Beverly, Billerica, Boston, Braintree, Brighton, Brockton, Brookline, Burlington, Cambridge, Canton, Chelsea, Concord, Dedham, Dorchester, Dorchester Center, Dover, Dracut, East Boston, Everett, Fall River, Framingham, Franklin, Haverhill, Hingham, Holbrook, Hyde Park, Jamaica Plains, Lakeville, Lexington, Lawrence, Lincoln, Lowell, Lynn, Lynnfield, Malden, Marlborough, Maynard, Medfield, Medford, Melrose, Methuen, Milton, Natick, Needham, New Bedford, Newton, Newtonville, North Waltham, Norwood, Peabody, Pinehurst, Plymouth, Quincy, Randolph, Reading, Revere, Rockland, Roslindale, Salem, Sherborn, Somerville, Southborough, Stoneham, Stoughton, Sudbury, Suffolk County, Taunton, Wakefield, Waltham, Watertown, Wayland, Wellesley, West Newton, West Roxbury, Weston, Westwood, Weymouth, Wilmington, Winchester, Winthrop, Woburn, and surrounding areas.