Water Damage in Woburn
Part of life in Woburn means you need to prepare yourself for seasonal storms and severe weather that can significantly impact your property. 911 Restoration of Boston understands the urgency associated with water damage and will respond the moment you discover leaks or flooding on your property. You can depend on us to provide 24-hour emergency water cleanup because we are available 24/7/365. Day or night, we will never make you wait for help during a water damage emergency. As soon as you need flood cleanup in Woburn, you can count on us to arrive within 45 minutes of receiving your call.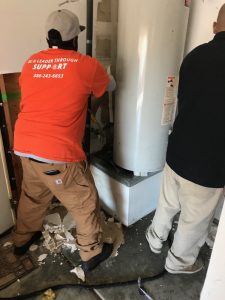 Once our technicians arrive on the damage site, we will begin the water damage restoration by conducting free water and mold inspections for the property owners.
Woburn's humid climate makes for the ideal environment for mold, especially when there is water damage present. The longer the moisture sits on the surfaces of your home or business, the more destructive it gets.
We understand the connection between moisture and mold, which is why 911 Restoration offers emergency flood cleanup and mold remediation services.
Our repair techs provide same-day water removal and drying services to prevent mold growth and uphold the structural integrity of your property. We want you to feel as safe as possible inside your home.
You can have complete confidence in our ability to repair all kinds of water damage. 911 Restoration of Boston employs IICRC certified professionals and is licensed, bonded, and insured for your protection.
Whether you are experiencing a basement flood or a storm damage emergency, you can rely on our team to be there for you, day or night. So, call 911 Restoration of Boston the moment you need water damage restoration in Woburn. We will show you that a Fresh Start is possible today!
Water and Mold Can Make Their Way into Unexpected Places
It takes more than just looking for water stains to find the source of a leak or flood invasion. These situations require thorough, professional inspection in order to determine the full extent of the water damage.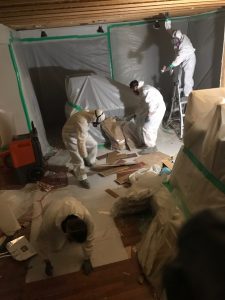 While our technicians provide free water and mold inspections, it is essential for you also to be aware of the signs that you have a moisture problem. By staying on top of your property's maintenance, you can significantly minimize and even prevent water damage incidents.
By merely relying on your senses, you can detect leaks, flood damage, and mold growth. Obviously, visually checking the areas on the property prone to water intrusions is the first step you should take when looking for moisture issues.
If you're dealing with a ceiling leak, flooded basement, or a pipe burst, drywall and wood can rot, creating an earthy odor. Mold may also begin to grow, which carries an unusual, musty smell.
Mold tends to hide inside walls and ceilings, sometimes making it difficult to see or smell. However, if you notice that you only experience allergy symptoms while inside your home or business, that may indicate spores activating your histamines.
If you notice any of these signs, it is crucial to reach out for immediate water damage restoration. So, call 911 Restoration of Boston, so our technicians can investigate your property to give you peace of mind today.
Customer Service Unmatched by Any Other Water Restoration Companies
Our technicians understand that when you find yourself unexpectedly dealing with a water emergency, you can feel pretty overwhelmed.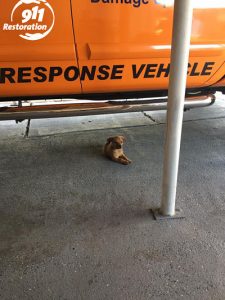 To put you at ease, we make it part of our duty to provide you with optimal customer service. Our technicians make a point to stay accessible to you throughout the water damage restoration process.
Our staff is eager to answer all your questions, so you have the information you need to feel totally comfortable with the situation.
Understandably, you will want to know the details of the water cleanup cost as soon as possible. Rest assured, our technicians will go over the facts and figures of the estimate before any flood cleanup or leak repairs begin.
Regardless of the circumstances, 911 Restoration of Boston is known for providing affordable, high-quality water damage restoration. We also accept insurance to keep your out-of-pocket expenses as low as possible.
If you have never filed a claim for water removal services before, we will provide you with a free insurance consultation. By having a professional go over your policy, you can be sure you understand your coverage entirely.
Not only will we file your claim for you, but our onsite technicians will help you take inventory of your losses. You will receive better coverage by sending a lost itemization list to your provider. The more information they have, the more financial help you will receive.
Call 911 Restoration of Boston if you have questions about flood cleanup, insurance paperwork, or anything else regarding water restoration. At the end of the day, we want to help you get the Fresh Start you deserve.
Servicing the cities of Abington, Acushnet, Acton, Allston, Andover, Arlington, Arlington Heights, Ashland, Assonet, Attleboro, Auburndale, Avon, Bedford, Belmont, Beverly, Billerica, Boston, Braintree, Brighton, Brockton, Brookline, Burlington, Cambridge, Canton, Chelsea, Concord, Dedham, Dorchester, Dorchester Center, Dover, Dracut, East Boston, Everett, Fall River, Framingham, Franklin, Haverhill, Hingham, Holbrook, Hyde Park, Jamaica Plains, Lakeville, Lexington, Lawrence, Lincoln, Lowell, Lynn, Lynnfield, Malden, Marlborough, Maynard, Medfield, Medford, Melrose, Methuen, Milton, Natick, Needham, New Bedford, Newton, Newtonville, North Waltham, Norwood, Peabody, Pinehurst, Plymouth, Quincy, Randolph, Reading, Revere, Rockland, Roslindale, Salem, Sherborn, Somerville, Southborough, Stoneham, Stoughton, Sudbury, Suffolk County, Taunton, Wakefield, Waltham, Watertown, Wayland, Wellesley, West Newton, West Roxbury, Weston, Westwood, Weymouth, Wilmington, Winchester, Winthrop, Woburn, and the surrounding areas.