Water Damage and Mold Removal in Haverhill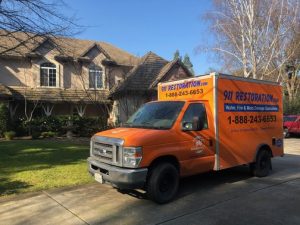 Get same-day help if you experienced a flood, sewage backup, or pipe burst in Haverhill. Water damage restoration and mold removal techs from 911 Restoration of Boston can reach your property within 45 minutes of your emergency call. You can get a Fresh Start after any water damage emergency by contacting our IICRC certified flood cleanup techs. Crews can:
Take Your Emergency Call 24/7/365

Perform a Water Damage and Mold Inspection After Reaching Your Property

Handle Commercial and Residential Water Damage Repairs

Deal with Water Extraction and Drying

Focus on Mold Remediation and Mold Decontamination
The Haverhill water damage restoration professionals at 911 Restoration of Boston understand exactly what you need after a blizzard, hurricane, or plumbing emergency. Crews have the training and experience to deal with a flooded basement or a flooded crawlspace.
Our crews are also licensed, bonded, and insured to deal with mold removal after a flood or plumbing emergency. Mold can grow quickly after a water damage emergency, as this fungus thrives in areas that are damp and dark. This means that flood cleanup often involves mold removal in Haverhill.
If you experienced any form of water damage, 911 Restoration of Boston can begin water remediation and mold cleanup for you right now. Getting help quickly after a pipe burst, flood, or sewage spill can reduce the overall damage to your property. Contact us now to erase all signs that you ever had a flooded basement, leaking pipe, or sewage spill.
When Do You Need Water Removal Services in Haverhill?
Excess water in your property can damage your floors, walls, ceilings, and possessions. This means that you need to get water removal services as quickly as possible after any water damage emergency. In the Haverhill area, you may require fast water extraction after a winter storm, pipe burst, hurricane, or sewage pipe.
Note that not all water damage events are immediately obvious. In the winter months, you may end up dealing with ice dams or frozen pipes. Some property owners do not immediately realize that they are experiencing water damage caused by freezing temperatures and frozen precipitation, but it can still negatively impact your home or business.
The water damage restoration crews at 911 Restoration of Boston can help with both obvious and subtle water damage events. You can reach out to us if you have a flooded basement or a slowly leaking pipe. In either case, crews are standing by to:
Assess Your Unique Needs

Remove Water from Your Property

Use Fans and Dehumidifiers to Dry Your Home or Business

Check for Signs of Fungal Growth

Repair the Causes of the Water Damage

Clean, Renovate, and Restore Your Property
Let us perform a mold inspection in Haverhill to check for signs of fungal growth after a winter storm, ceiling leak, or flood. We can begin mold remediation right away if there are signs of a fungal infestation in your home. Fast mold decontamination in Haverhill can stop mold from continuing to spread.
What Do You Have to Do During Haverhill Mold Remediation?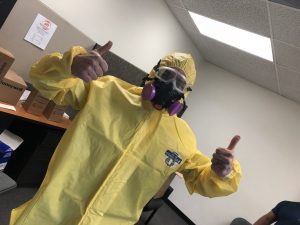 The Haverhill flood cleanup and mold remediation professionals at 911 Restoration of Boston can take care of all aspects of property restoration. Once you contact us to begin water damage restoration and mold removal, you don't need to take any other direct steps in the restoration of your property. We'll handle everything for you.
In many cases, you won't even have to leave your property during mold decontamination and water remediation. Techs can isolate areas of your property in need of restoration. Flood cleanup crews may use plastic sheeting and negative air pressure machines to keep certain areas quarantined. 
Water damage repair and mold decontamination techs can answer your questions about the exact process for handling your needs after they complete a water damage and mold inspection. A mold inspection may be especially important if you are dealing with a flooded basement in Haverhill.
Mold grows best in areas that are dark and damp. This makes a flooded basement a perfect environment for mold growth. Fortunately, 911 Restoration of Boston can take care of mold remediation in Haverhill alongside water damage restoration, ensuring that your property is returned to perfect condition with limited disruption to your life.
We can even offer you a free insurance consultation after a water damage event, like a blizzard or a pipe burst. This consultation can help you go over your options if you're dealing with carpet water damage, an ice dam, a burst pipe, or any other water damage emergency in Haverhill.