Water Damage and Mold Removal in Dorchester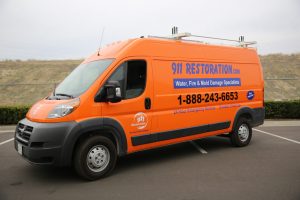 You can get help within 45 minutes of a sewage backup, flood, or pipe burst in Dorchester by contacting 911 Restoration of Boston. Our IICRC certified water damage restoration and mold remediation techs are on-call 24/7/265, so you don't have to wait to begin flood cleanup. You can get a Fresh Start after any water damage emergency by allowing us to:
Take Care of Immediate Water Extraction

Stop Additional Water from Entering Your Property

Dry and Dehumidify Your Home or Business

Perform a Mold Inspection to Check for Fungal Growth

Handle Commercial and Residential Mold Remediation
As a full-service property restoration company, 911 Restoration of Boston can handle all water damage events, including blizzards and hurricanes. You can contact us if you're dealing with a flooded basement, frozen pipes, a ceiling leak, or carpet water damage. We don't consider any job too big or too small, so don't hesitate to contact us immediately.
Dorchester flood cleanup techs have the training and experience to take on mold cleanup following a flood or a pipe burst. Crews can complete a mold inspection after a flood in your basement, sewage backup, or pipe burst. If they spot signs of mold, they can begin mold decontamination in Dorchester right away.
Taking immediate steps to begin water damage restoration and mold removal in Dorchester can limit the total damage to your property. Take charge of your future today by contacting flood damage repair professionals to get comprehensive restoration services.
Who Should You Call for Water Damage Cleanup in Dorchester?
When you need water damage restoration in Dorchester, you need to get help from a company with techs who:
Are Licensed, Bonded, and Insured to Handle Flood Cleanup

Have Experience Handling Commercial and Residential Water Damage

Have Assess to Professional-Grade Restoration Equipment

Are Trained to Take Care of Pipe Bursts, Floods, and Sewage Backups

Know How to Complete Mold Removal and Mold Decontamination

Can Reach Your Property to Get to Work Quickly
The flood cleanup and mold removal techs at 911 Restoration of Boston offer you all of these benefits. Crews are dedicated to ensuring that your property is returned to better-than-new condition after a blizzard, hurricane, or sewage backup. We can help if you are dealing with a flooded basement in Dorchester. 
Crews believe you shouldn't have to wait to start flood restoration and mold remediation in Dorchester. After all, water can continue to damage your property each hour that it is allowed to remain. That's why 911 Restoration of Boston focuses on same-day:
Residential and Commercial Water Removal

Comprehensive Drying and Dehumidification

Mold Cleanup and Mold Decontamination
Flood damage repair techs can even pack out and store your undamaged belongings to protect them. Let us keep your possessions safe while techs take care of water damage restoration and mold remediation in Dorchester. Let us assess your needs for flood damage repairs with a water damage and mold inspection.
What Equipment is Used in Water Cleanup and Mold Remediation in Dorchester?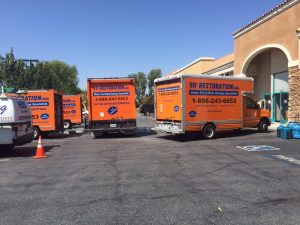 It's important that you work with professionals for Dorchester water damage restoration and mold removal because these services require specialized forms of equipment. Depending upon your unique needs, techs may need to utilize:
Pumps to Handle Water Extraction

Fans and Dehumidifiers to Dry Your Property

Infrared Scanners to Locate Hidden Moisture

Sheeting and Negative Air Pressure Machines to Isolate Parts of Your Property

Air Filters to Get Rid of Mold Spores

Specialized Cleaners to Get Rid of Odors and Contaminants

Personal Protective Gear for Safety
You should be aware that it can be dangerous to clean up some forms of water damage on your own. For example, a sewage backup can leave you dealing with water contaminated by human waste. 911 Restoration of Boston has the safety gear to handle sewage cleanup for you, so you do not need to risk your well-being.
Working with a company that has all the equipment you need to repair a flooded basement or a pipe burst emergency can reduce the total time flood cleanup will take. The techs at 911 Restoration of Boston are trained in the use of all property restoration equipment, allowing them to quickly remove water from your property, dry out your possessions, and renovate your home or business.
Contact us right away if you're dealing with water damage caused by a blizzard, flood, or pipe burst. We're here to handle flooded basements, carpet water damage, and leaking pipes. Let us handle mold decontamination and water cleanup in Dorchester right now.