Water Damage in Lynn
If you own a home or business in Lynn, at some point, you will need professional water cleanup assistance. Lynn receives exceptional amounts of precipitation throughout the year, making water damage a common problem. 911 Restoration of Boston is available 24/7/365 to provide you with immediate water damage restoration after you encounter a water disaster such as a ceiling leak or flooded basement. Our technicians will never make you wait for flood cleanup services. With our around-the-clock assistance, we will keep your property safe from all kinds of water damage.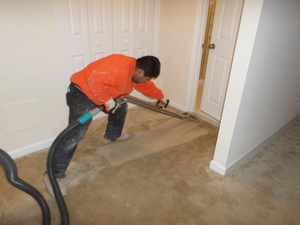 Our technicians guarantee to arrive within 45 minutes of receiving your call, ready to conduct same-day water removal and drying services. The sooner we administer water extractions, the lower the chances are of incurring mold growth.
We will provide the property owner with a thorough water damage inspection, so our repair techs can check for leaks, flood damage, and mold. Mold is a common byproduct of water damage, which is why our technicians are always ready to administer mold decontamination.
Whether you're dealing with storm damages or a pipe burst emergency, you can have complete confidence in our ability to recover your property from any situation. 911 Restoration of Boston employs IICRC certified professionals and is licensed, bonded, and insured for your protection.
As a locally owned and operated restoration company, our staff members understand how the weather patterns in Lynn affect homes and businesses in the area. You can trust that we will strategize a water damage restoration plan specifically designed for you.
Our main priority is to give you peace of mind knowing that the most qualified, capable restoration company is working for you. So, call 911 Restoration of Boston as soon as you need leak repairs or flood cleanup in Lynn today!
We Specialize in Water Damage Restoration and Prevention
Lynn experiences its share of extreme weather with abundant precipitation throughout the year. Summers bring thunderstorms, hurricanes, and tropical cyclones, while nor'easters and heavy snowstorms occur in the winter.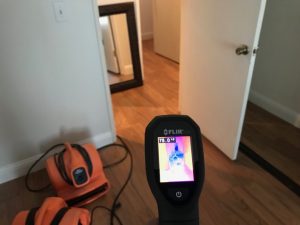 These weather patterns can create extensive flooding, leaks, and structural damages. Often mold is a byproduct of the water damage, especially during humid months.
Due to the severe climate, it is crucial to prepare your property for the impact of these seasonal storms. However, even if you take all the necessary precautions, you may still need emergency flood cleanup services.
911 Restoration of Boston realizes that time is of the essence when dealing with water damage, and our technicians will waste none providing water damage restoration in Lynn.
Day or night, we will respond immediately to begin water extraction and drying services. If you have an active situation, such as a roof leak, pipe burst, or flooded basement, we will contain the water intrusion and stop it at the source.
Along with conducting comprehensive water mitigation, our technicians will provide any mold removal services needed. We will perform thorough drying and dehumidifying procedures to remove all lingering traces of moisture and prevent mold growth.
You can count on our repair techs for 24-hour emergency water cleanup. So, call 911 Restoration of Boston as soon as you notice signs of water damage in your home or business. We will get your property looking better than new in no time!
Leaks and Floods Typically Lead to Mold Growth
The tricky part about water damage is that it can hide behind walls, ceilings, and floors, making it impossible to see with the naked eye.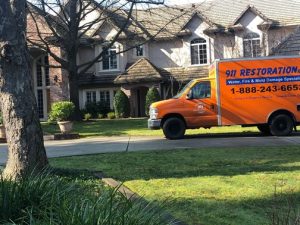 Our technicians use infrared leak detection technology to ensure we discover all traces of indoor moisture. By utilizing this advanced equipment, we can detect any hidden leaks, assuring no amount of water is left behind.
Even a small amount of water damage can cause mold to grow. Prompt mold removal is necessary not only to protect your property, but your health. Over time, mold spores can pose significant health risks.
When mold grows, it naturally produces spores. These spores release microscopic toxins into the air that can cause allergy symptoms and respiratory issues.
To avoid these hazards, our specialists will complete comprehensive water removal, drying, and dehumidifying services. We will facilitate proper ventilation in the bathroom, kitchen, basement, and anywhere else you might suspect moisture to prevent future mold issues.
You can trust that our technicians are as fluent in water damage restoration, as we are in customer service. We will help you with literally every aspect of the recovery process, including offering free insurance consultations.
911 Restoration of Boston has worked with all types of insurance companies over the years. We understand what information your provider needs to get you the most coverage. Our technicians will directly bill your insurance company and file your claim for you on your behalf.
You can count on 911 Restoration Boston to detect all water and mold hazards on your residential or commercial property. So, call our technicians today! We will guide you through the water cleanup process into the Fresh Star you deserve!
Servicing the cities of Abington, Acushnet, Acton, Allston, Andover, Arlington, Arlington Heights, Ashland, Assonet, Attleboro, Auburndale, Avon, Bedford, Belmont, Beverly, Billerica, Boston, Braintree, Brighton, Brockton, Brookline, Burlington, Cambridge, Canton, Chelsea, Concord, Dedham, Dorchester, Dorchester Center, Dover, Dracut, East Boston, Everett, Fall River, Framingham, Franklin, Haverhill, Hingham, Holbrook, Hyde Park, Jamaica Plains, Lakeville, Lexington, Lawrence, Lincoln, Lowell, Lynn, Lynnfield, Malden, Marlborough, Maynard, Medfield, Medford, Melrose, Methuen, Milton, Natick, Needham, New Bedford, Newton, Newtonville, North Waltham, Norwood, Peabody, Pinehurst, Plymouth, Quincy, Randolph, Reading, Revere, Rockland, Roslindale, Salem, Sherborn, Somerville, Southborough, Stoneham, Stoughton, Sudbury, Suffolk County, Taunton, Wakefield, Waltham, Watertown, Wayland, Wellesley, West Newton, West Roxbury, Weston, Westwood, Weymouth, Wilmington, Winchester, Winthrop, Woburn, and the surrounding areas.