Water Damage in Brookline
Brookline experiences significant rain and snow throughout the year. These elements can cause ceiling leaks, basement floods, and plumbing problems on your property. As soon as you notice water damage on any part of your home or business, you should call 911 Restoration of Boston. Day or night, our technicians guarantee to arrive within 45 minutes after receiving your call. It doesn't matter what time you need water damage restoration. We are available 24/7/365 to assist you.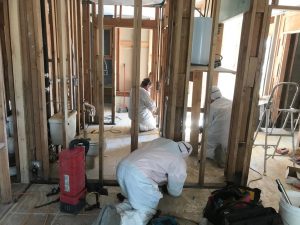 Property owners receive free water damage inspections. By surveying the property, our technicians will determine the extent of the water damage to formulate an estimate.
We offer comprehensive water damage repairs that include mold remediation services. Our technicians commonly find mold where leaks and flooding are present, making it crucial to hire a restoration company that can mitigate both issues.
We are confident that our technicians are the best in the industry. 911 Restoration of Boston employs IICRC certified professionals that have reached the highest standards in the industry as set by the Institute of Inspection, Cleaning, and Restoration.
You can relax knowing that you are under the care of a licensed, bonded, and insured company. This insurance status ensures you are protected entirely in any situation.
The climate in Brookline makes knowing a dependable restoration company essential to navigating the wet seasons. Our technicians have both the experience and the skills needed to keep your property intact throughout the year. As a locally owned and operated flood cleanup company, our staff expertly understands how the regional weather patterns impact Brookline.
You can trust that our technicians will execute a restoration strategy specifically made for your property. Call 911 Restoration of Boston the moment you need water damage restoration in Brookline. We care and understand exactly what you need to overcome any property disaster!
From Rainwater Leaks to Flooded Basements, We've Got You Covered
Severe weather frequents Brookline all year round. Between summer hurricanes and winter Nor'easters, there are many opportunities for water damage to influence your property.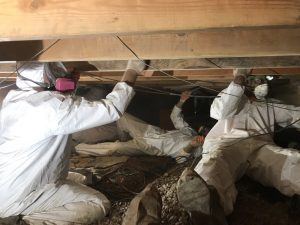 The water damage created from a tropical storm can potentially be devastating. However, with 911 Restoration of Boston by your side, you will have the best chances of making a full recovery.
Roof leaks and pipe bursts are the most common causes of water damage in Brookline. Many of the homes in the area are original Colonial properties that have older foundations and plumbing systems.
The freezing temperatures, humidity, rain, and snow are likely to cause roof and plumbing issues, making it easy for water to invade the property. These elements can quickly lead to flooded basements and ceiling leaks, problems that require immediate attention.
Our technicians understand the importance of immediate flood cleanup in Brookline, which is why we offer 24-hour emergency water cleanup. We will conduct thorough water extraction and drying services, as well as making all the necessary structural repairs.
Drying and dehumidifying the property is especially vital during the humid summers. Any lingering moisture can quickly spark a mold infestation within a matter of days. Our repair techs work efficiently to contain the flooding and eliminate water damage to prevent mold and mildew.
Call 911 Restoration of Boston when you need full-service water damage restoration. You can count on our technicians to provide the mold and water mitigation services required to get your property looking better than new.
Customer Service is Integral to Successful Water Damage Restoration
911 Restoration Boston is open round-the-clock to help you with the most critical emergencies. Our repair techs guarantee to be at your property within our 45-minute timeline, ready to begin flood cleanup services.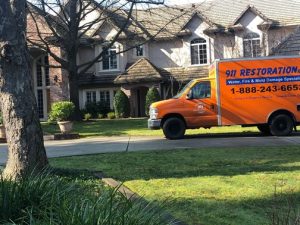 Your well being is our priority, and we hope to put you at ease by always making ourselves available. We approach every situation with the utmost professionalism, no matter how big or small the job.
Our affordable prices make our water damage restoration services readily available to the Brookline community. We accept all types of insurance and offer free insurance consultations.
If you have never had to file a water damage claim, our staff members will go over your policy to help you understand your coverage. We will directly bill your insurance provider and submit your application for you.
911 Restoration of Boston is committed to putting customer service above everything else. Our onsite technicians will provide you with information every step of the way to ensure you are comfortable with the water cleanup services.
When you need leak repairs or flood cleanup, contact the restoration company you know is standing by to give you the Fresh Start you deserve. Have peace of mind by calling 911 Restoration of Boston today!
Servicing the cities of Abington, Acushnet, Acton, Allston, Andover, Arlington, Arlington Heights, Ashland, Assonet, Attleboro, Auburndale, Avon, Bedford, Belmont, Beverly, Billerica, Boston, Braintree, Brighton, Brockton, Brookline, Burlington, Cambridge, Canton, Chelsea, Concord, Dedham, Dorchester, Dorchester Center, Dover, Dracut, East Boston, Everett, Fall River, Framingham, Franklin, Haverhill, Hingham, Holbrook, Hyde Park, Jamaica Plains, Lakeville, Lexington, Lawrence, Lincoln, Lowell, Lynn, Lynnfield, Malden, Marlborough, Maynard, Medfield, Medford, Melrose, Methuen, Milton, Natick, Needham, New Bedford, Newton, Newtonville, North Waltham, Norwood, Peabody, Pinehurst, Plymouth, Quincy, Randolph, Reading, Revere, Rockland, Roslindale, Salem, Sherborn, Somerville, Southborough, Stoneham, Stoughton, Sudbury, Suffolk County, Taunton, Wakefield, Waltham, Watertown, Wayland, Wellesley, West Newton, West Roxbury, Weston, Westwood, Weymouth, Wilmington, Winchester, Winthrop, Woburn, and the surrounding areas.