Mold Removal in Lowell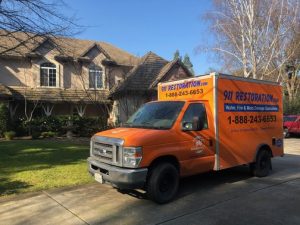 For property owners in Lowell, mold is a subtle yet devastating form of property damage. It eats away at the walls, support beams, carpet fibers, and other organic materials. In addition, health issues are highly likely especially for those who are allergic. Regardless of the level of mold present on the property, the IICRC certified technicians are ready to assist the residents and surrounding Boston area with their mold remediation and if necessary their water damage restoration. We guarantee to arrive within 45 minutes ready to work.
Fortunately, the signs of mold are easy to notice once you're aware of them. Mold removal is best done as soon as it's found. The most common signs of a mold infestation include:
Rotted wood

Crumbling drywall

Visible mold

Breathing problems

Headaches

Persistent cough

Stale odor
Regular methods of cleaning are ineffective and only serve to agitate the mold spores. Agitated mold spores become airborne and spread to create new mold colonies. That's why professional mold remediation is necessary to resolve the problem. Since mold can be discovered at any time and may indicate a water damage problem we make ourselves available 24/7/365 for residents in Lowell, New Bedford, and other cities in the surrounding Boston area.
As soon as you're aware of mold growth or suspect that mold is present don't hesitate to call 911 Restoration of Boston. The faster the response, the faster you can experience the Fresh Start needed to move forward.
Mold in the House
The house is full of a number of different rooms. Every room from the kitchen and bathroom to the attic and basement is susceptible to possible mold contamination. That's why professional mold remediation services can be needed at a moment's notice. At 911 Restoration, we have taken our IICRC certification, additional training, and years of experience and developed a perfected mold remediation process that goes as follows:
Mold inspection: The very first step. Upon arrival, we inspect the premises to determine if mold exists, how far it expands, and if water damage restoration will be needed as well.

Mold decontamination: After setting up an action plan, the next step is mold decontamination. During this step, we use containment measures like vapor barriers to keep the mold from spreading. Once contained, it's time to use our industrial strength cleaners and detergents to neutralize the mold.

Mold removal: Once neutralized, the mold can be removed and eliminated from the premises. It is during this step that any needed water damage restoration begins. We may perform water extraction and drying methods to get the property completely dry.
After everything is completed, we take it upon ourselves to provide any needed repairs to the property so that you can get back to good as new. At 911 Restoration, everything from mold inspection and mold decontamination to mold removal and water damage restoration are covered. Get the Fresh Start you need today.
Flood Cleanup and Mold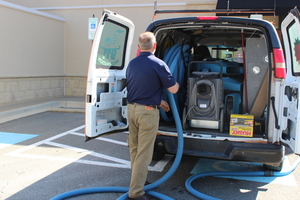 In some situations, the level of water reaches flood levels. A common cause of flooding is a pipe burst in the basement. If flooding occurs, you not only need mold remediation but also flood cleanup. With such a large amount of water, the chances of mold go up significantly thanks to the contaminants found in such large amounts of water.
That's why we don protective gear and stand ready to perform multiple standard and mold decontamination procedures to ensure that everything has been neutralized and no longer hazardous to your health. Once safe, we perform a combination of water extraction and mold removal to get the property dry and to eliminate the immediate problem. Before we deem the flood cleanup complete we inspect the premises with an infrared camera to verify that nothing but dry real estate exists.
Get a mold inspection or mold decontamination with a phone call. Get water damage restoration and flood cleanup while you're at it. With 911 Restoration, the Fresh Start you've been waiting on is right around the corner.
Servicing the cities of Abington, Acushnet, Acton, Allston, Arlington, Arlington Heights, Ashland, Auburndale, Avon, Bedford, Belmont, Billerica, Boston, Braintree, Brockton, Brookline, Burlington, Cambridge, Canton, Chelsea, Concord, Dedham, Dorchester, Dover, East Boston, Everett, Fall River, Framingham, Haverhill, Hingham, Holbrook, Hyde Park, Jamaica Plains, Lakeville, Lexington, Lawrence, Lincoln, Lowell, Lynn, Lynnfield, Malden, Maynard, Medfield, Medford, Melrose, Milton, Natick, Needham, New Bedford, Newton, Newtonville, North Waltham, Norwood, Peabody, Pinehurst, Quincy, Randolph, Reading, Revere, Rockland, Roslindale, Salem, Sherborn, Somerville, Southborough, Stoneham, Stoughton, Sudbury, Wakefield, Waltham, Watertown, Wayland, Wellesley, West Newton, West Roxbury, Weston, Westwood, Weymouth, Wilmington, Winchester, Winthrop, Woburn, and surrounding areas.