The Risk of Fire Due to Dry Boston Winters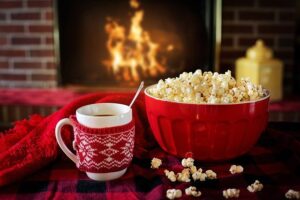 It's no secret that winter increases the risk of fire damage in Boston Homes. Most of these fires are preventable, but it is not uncommon for an extreme weather event to knock out a power line or two and create a fire risk. The National Fire Protection Association found that home fires occur more frequently in winter. There's a reason why homeowner insurance gets more expensive in the winter months.
This is why it is important to take proper steps to protect your family from fire hazards in the winter.
Get Rid of the Clutter
The best way to minimize your fire risk in the winter is to keep everything clean and clear out the clutter. This is especially important in the case of chimneys and the fireplace. Keep those areas free of creosote to prevent a chimney fire.
Hire an expert to help clean the furnace and make sure it is free of debris or dust that could lead to the build of highly flammable gas.
Electrical devices that draw a lot of power (such as computers, microwaves, and the like) should be kept in a clutter-free space. Keep them away from flammable materials to prevent the risk of fire.
Space Heaters
Space heaters are convenient and provide warmth in the winter months – but they substantially increase your risk of starting a fire. As a rule, space heaters should be kept at least three feet away from everything else. Give your space heaters their space!
This applies to textile items in your home, such as mattresses, bedding, upholstered furniture, and clothes. Don't store your clothes on or around the heater. Do not cover the cord with anything. Instruct children to stay away from the space footer at all times. Keep your pets away from the thing, as well.
Pro tip: Radiators are a safer alternative to space heaters because they are less likely to ignite combustible items – but you should still keep things away from them, for good measure.
Implement Best Practices in the Kitchen
Cooking is attributed as the leading cause of home fires and injuries, especially unattended ovens and stovetops. Make sure your family and friends are safe this winter as you treat them to delicacies. Whether baking, heating, or roasting your food, keep your eyes peeled for anything out of the ordinary. Stay in the kitchen and use a timer to remind you that it's time to check the food.
Pro tip: Planning a long cooking day ahead? Arm your kitchen with a vent above the stove and an exhaust fan to prevent the buildup of carbon monoxide in your home.
Keep the Fire Extinguisher Ready
It is important to keep a fire extinguisher nearby. It should be kept at a place that is easy to reach and in areas with a naturally high risk of fires, such as the kitchen and living room. You should also know how to use it to keep all occupants safe in the event of a fire.
Candles: a Big Fire Hazard
Candles pose a big fire risk, especially in the winter. Although they make your home feel cozy and smell good, they can start a fire, especially if you leave them unattended. Always keep the candles at least three feet away from flammable materials such as curtains and blankets. If you want to keep winter festivities alive without increasing your risk of fire, ditch the candles in favor of an air freshener.
Don't Overload Electrical Sockets
A large percentage of electrical fires are caused due to outdated electrical outlets. It is common for people to attach too many devices to just one outlet. This can result in too much power being drawn from the outlet and can easily start a fire.
If the electrical outlet gives off small shocks and sparks, have it looked into by an expert.
Pro tip: Extension cords should be used as a temporary solution only. All appliances (especially ones that draw a lot of power) should be plugged directly into the outlet. Hire a qualified electrician to install additional wall outlets.
Install Smoke Detectors and Keep them Functional
The best way to prevent a fire is to have a smoke alarm that can alert you right away. If it's a small fire, then you will be alerted in time to stop it from becoming a bigger problem. If it's a more serious problem that you cannot put out on your own, then at least you'll be alerted in time to evacuate the premises with your loved ones and call for help.
It is important to install smoke detectors in all areas of your home and make sure they are working properly. Take the time to test every smoke alarm and swap out their batteries to stay safe.
Contact Fire Restoration Services in Boston
Stay safe this winter with fire damage restoration services. If you have experienced fire or smoke damage recently, feel free to call your nearest 911 Restoration team in Boston for support and advice. Our technicians use specialist equipment and have adequate knowledge restoring your property to pre-incident condition with minimal downtime.