Winter Maintenance Checklist for Disaster Mitigation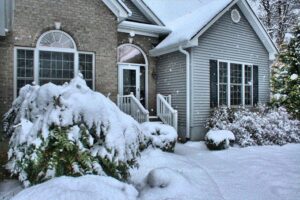 As winter is on its way, homeowners need to take out their winter maintenance checklist for disaster mitigation.  The low temperatures can cause water to freeze in pipes, which may lead to a pipe burst followed by water damage. Winter storms are also common during the winter season, causing flooding when the snow starts to melt. Just like the above mentioned, there are a host of other disasters that become inevitable during the winter season.
But this doesn't always have to be the case-with adequate preparedness, homeowners can save their home from extensive damage.
Here is a winter maintenance checklist that will help with disaster mitigation.
1.    Check for Leaks
If you want to save yourself from high energy bills and ensure your home doesn't suffer water damage, you should check for leaks during winter. Check for any cracks in the walls and roof that may cause seepage. This may lead to flooding in small areas, especially in the basement where it may go unnoticed.
Standing water may then lead to mold growth, which can ruin organic materials in your home. Timely checks for leaks can save your home from disaster. You may even consider getting waterproof sealant for the exterior foundation if you think your home is susceptible to floods.
2.    Trim Low-Hanging Branches
Since heavy snowfall is very common during the winter season, your home can suffer a lot of damage. To limit the extent of damage done, you should trim low hanging branches. Low hanging branches in your garden may not be able to bear the weight of heavy snow and ultimately fall on power lines or your home, causing extensive damage that will need disaster restoration services.
3.    Insulate Pipes
Pipes can freeze during very low temperatures. Due to this, you may experience an interrupted flow through the pipes. As a result of this, more pressure will be exerted. This could easily lead to a pipe burst, which will lead to flooding in that spot. Pipe bursts will cause water damage and then mold infestation. To curb the extent of damage, you should insulate any exposed pipes in the basement to prevent them from freezing and then bursting.
4.    Unclog the Gutters
When gutters get clogged, you may be close to experiencing roof leaks and damage. To prevent this, you should make sure your gutters are unclogged at all times. This tip is especially important during winter as gutters can get clogged due to debris, snow and ice. This can pull down the gutter and cause roof leaks inside the house, once again, causing serious roof and water damage.
5.    Inspect Your Chimney
Since you would be using your fireplace a lot during winter, you should get your chimney inspected by a professional well in advance. Chimney fires are a common occurrence during the winter season and hence are a real threat for homeowners. To prevent the risk of fire and smoke damage, you should inspect your chimney to take care of any blockage.
6.    Check the Sump Pump
One important tip is that you should check and inspect the sump pump ahead of the winter months. A sump pump helps to remove water that may seep into your basement during winters and cause some serious water damage. When you inspect your sump pump, make sure it has the right pumping capacity for your home. It should also have a battery backup in case the power goes out, which is a common occurrence during winter.
7.    Clean Your Roof
During winter, snow can accumulate on your roof. Over time, this snow will melt and this standing water may seep inside the home. To prevent water and roof damage, you should regularly clean your home as a vital winter maintenance checklist. When you keep your roof clean and free of snow, you will prevent the risk of ice dams that will drive water into your attic and walls. This may also ruin the paint of the walls, and require you to get mold removal and remediation services for the attic.
8.    Monitor Moisture Inside Homes
While many people think mold growth doesn't happen during winter, this is a false assumption. During winter months, the difference between inside and outside temperature will cause condensation, and create the perfect conditions for mold growth.
Mold spores can quickly spread around the house, and cause extensive damage. To prevent this, you should monitor the moisture and humidity levels inside your home. One way to do this is by making sure there is proper ventilation in moisture-prone areas of the house. Also, dry any wet surface in an attempt to reduce the source of moisture.
Disaster Restoration
Homeowners should be vigilant and ensure they follow the winter maintenance checklist for disaster mitigation. Disasters can cause serious damage and also incur significant costs for homeowners. To prevent this, you should regularly maintain your home during colder months.
Homeowners can always contact 911 Restoration of Boston for water damage restoration, mold removal, fire and smoke damage restoration and overall disaster restoration. With a quick, 45-minute emergency response time, you can ensure that the damage is contained in time.