Cleaning Your Home Before & After Guests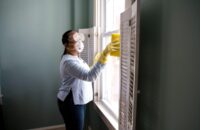 Whether you've been planning a Christmas party for days or have just learned that guests will be coming by in a few minutes, the following are some suggestions to make your house look cleaner. Begin by cleaning and disinfecting the most visible areas of your house bathroom and kitchen counter, then add some shiny highlights and floral arrangements for giving your house a magical and festive touch.
Your mess doesn't create any trouble when you alone have to face it or deal with it. Spider webs on the walls, stacks of paper, and messy spaces might not bother you, but it creates a negative impression on guests. People are constantly on the lookout for hygiene and cleanliness, and if you have visitors during the Christmas period, you'll have to think a step ahead. We have compiled a list of the best three house cleaning practices to perform before visitors arrive:
Consider the Small Stuff
It may sound obvious, and with children in the home, you need to ensure the toilets are clean. Regardless of how dirty your property is, the visitors will overlook it until they are greeted with a sparkling clean restroom. Most visitors travel long distances to see their friends and relatives; make sure they feel comfortable and relaxed when they arrive by providing them with a clean washroom.
Refrigerator Clean Up
Over the years, we might miss out on cleaning our refrigerators. Although if you don't have a chance to service or clean the refrigerator, make sure to clear out the fridge. Visitors are sometimes intrusive by mistake when seeking to give you anything from the refrigerator when you're preparing food. They may lift a container to uncover anything lying there for three weeks. If you don't want mold in the fruit and vegetables and a foul stench each time you check the refrigerator, take out all containers and shelves and consider giving it a deep cleaning before guests come.
Unclean Cups and Glasses
Several individuals, and eatery businesses, are unaware that unclean glasses affect the drinking quality and experience. These stains might not always be from red lipgloss on a glass or cup. However, ordinary dirt such as debris or lip and finger stains on a cup or glass might turn off visitors. Regularly clean the cups and glasses thoroughly to prevent stains, dirty water spots, or a hazy look. It also applies to coffee mugs. To completely remove caffeine residue from cups, use baking powder or different cleaning agents such as dishwashing solutions.
Dress It Up
Spend just a few minutes to ensure the area is free of garbage and other junk, so you can focus on elevating your space. Householders often use pillows and cushions to adorn their sofas or create a more classic look. Laying down your blankets and cushions will guarantee that your property appears sophisticated and that attention has been given.
Cleaning Your Home After Guests
It's always lovely to have friends and family in your home for Christmas, but you must disinfect and clean up straight after guests, according to specialists at the (CDC) Centers for Disease Control and Prevention. It's the truth when someone has been ill or contracted the disease in the recent two days that they or you may not be aware of. As a result, it's wise to take a little bit of precaution.
The Grouch of Bacteria and Germs
You will very certainly discover the germiest repercussions of the visitors' stay in the cooking area. The kitchen equipment should be cleaned and sanitized. You might be preparing for Christmas for weeks in your kitchen, and visitors like congregating there during gatherings so you need to be careful about what you leave out. After scrubbing the surfaces and wiping down, disinfect the oven, sink hardware, cabinet, and microwave and disinfect the kitchen cutlery, cutting boards, and sink.
Disinfect the Toilet
Yes, you must disinfect the toilet in your bathroom. Try to disinfect or sanitize the doorknobs, faucet, and commode in the bathroom, as well as the countertop, sink, and light switches.
Grinch on the Surface
The CDC provides the following extra disinfecting and sanitizing suggestions:
Use temporary hand gloves to disinfect and sanitize, dispose of them after using them, and use washable disinfecting and sanitizing gloves.
Disinfect every dirty area with water and soap before applying sanitizer.
Keep washing your face and hands primarily for 10 seconds with water and soap.
Pay special attention to any high-touch areas in spaces where visitors were celebrating, such as tables, handles, doorknobs, counters, and light switches.
Disinfect Using a Sanitizer
Chemicals and disinfectants can be used to minimize the number of bacteria and germs. You can also count on professionals to disinfect all high-touch surfaces throughout this process. Professionals can help you clean and disinfect the cabinets, light switches, and doorknobs by cleaning them with a chemical sanitizer.
After wiping a solid object, clean it with sanitizer. Concentrate on disinfecting any regularly contacted items in the area, such as light switches and doorknobs. Make careful to sterilize equipment according to the company's cleaning instructions.
Allow the sanitizer to remain moist for the period provided. A wet exposure time is required for the agents to sanitize an area successfully. It gives the agents plenty of time to destroy bacteria and germs.
Leave areas to dry naturally. It has no assurance that the chemical has removed the pathogens.
The Bottom Line
Nobody wants to perform all of the housekeeping by themselves over the festivities. You can count on 911 restoration Boston to help you out; they are usually delighted to assist you in keeping the house in good condition and hygiene.