Importance of Precision in Water Damage Restoration for Healthcare Facilities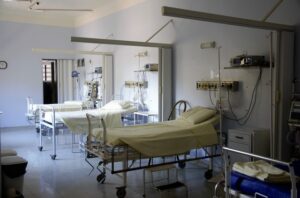 Just like water damage can wreak havoc in your home, it can do the same to healthcare facilities and get even worse if the situation is not controlled promptly by an expert team.
At 911 Restoration of Boston, we are not only renowned for our expertise in home restoration after water damage but also for superior restoration services for healthcare facilities. Rest assured, if you have a flooded or water-damaged facility for any reason, we can help.
Precision in Water Damage Restoration—Why is it Crucial?
Precision in water damage restoration for healthcare facilities is crucial to overcome a challenging situation, primarily when the damage is caused by severe flooding. Severe flooding can cause damage to infrastructure, including but not limited to:
Power supply interruption

Water supply interruption

Damage to medical equipment

Disruption to the internal and external communication system

Flooded ambulance stations

Inconvenience to patients admitted and in need of medical assistance
All this requires quick recovery from the challenging situation to restore services and provide quality healthcare services. However, this is only possible if you work with an experienced and well-trained water damage restoration company that knows how to navigate through and overcome the challenge smoothly and in the fastest time.
Other reasons why precision in water damage restoration are:
To prevent the risk of electric shocks and fires. Some healthcare facilities have backup electrical systems and generators in place. When the power supply is interrupted due to flooding, backups may come into action. Standing water in basements or near the backup supply can increase the risk of electrocution and lead to fatalities of innocent people.

To minimize the risk of mold growth and health risk. Precision in water damage restoration is perhaps the best and only way to minimize and keep this risk at bay. It is vital to understand that mold and mildew growth in healthcare facilities after flooding due to pipe bursts or heavy rainfall can pose serious threats to the lives of the patients, especially those who are already combating respiratory diseases/infections and have weak immune systems.

To normalize the situation and restore the facility providing excellent patient care and services to those who need them most.
 Professional Water Damage Restoration for Healthcare Facilities—How Do We Help?
At 911 Restoration of Boston, we have a well-reputed, trained, and equipped team of commercial and home restoration experts. We are dedicated to providing commercial business owners and healthcare facilities with complete, comprehensive, and on-demand water damage restoration services. Hence, our team is available at your disposal whenever you need us.
When you call us for water damage restoration, rest assured we'll handle the task with precision and to your complete satisfaction. As our team understands the time-sensitivity associated with clearing up and restoring water-damaged healthcare facilities, we do our best to ensure that your facility is cleared up from stagnant water. All necessary work is done to make your services accessible to patients.
Once you contact our team, we will reach your healthcare facility in 45 minutes or less, fully equipped and geared. Our restoration process is aligned and systematic. This ensures that all restoration work is carried with precision, on time and without any delay.
Step-by-Step Water Damage Restoration Process
Here is the step-by-step water damage restoration process that is much needed to ensure precision in service delivery and fully restore a healthcare facility for use:
Identification of the Flood Source
Our team first identifies the root cause of flooding. We take adequate measures to shut down the source of water damage, making sure that the situation is under control and your facility is protected against the potential risk of water damage.
Assessment of Water Damage
The next step is to assess the extent of the damages your facility has incurred because of flooding. This is needed to determine the scope of work, calculate the loss incurred and suggest the proper action plan to get the restoration job done quickly and to your complete satisfaction.  
Water Extraction and Dehumidification
Our team will arrive at your facility with industry-grade water extraction and dehumidification equipment. We will extract all the stagnant water from your facility from every nook and corner, ensuring no standing water remains in and around your premises. Moreover, we will use dehumidifiers to eliminate the moisture in the house in order to prevent mold and mildew growth.
Disinfection and Mold Remediation
Floodwater can leave behind a musty smell. Hence, we use disinfectants and special mold removal techniques to prevent the risk of possible infections or mold. We ensure the air is clean, fresh, and clear.
Structural Repair and Restoration
Like we help homeowners with repairs when they contact us for home restoration after water damage, we also assist healthcare facilities with structural repairs. We will evaluate the situation and condition of your facility and make sure that all repairs are done promptly, ensuring your healthcare facility is safe to enter and serve patients.
For more information or professional water damage restoration services for your healthcare facility, contact us. We are here to help.