Stay Prepared For Storm Surges During The Nor'easter
Those living in Boston are all too familiar with the effects of a nor'easter, especially after dealing with the bomb cyclone that passed through in January.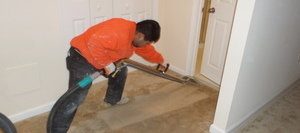 A bomb cyclone can be as menacing as it sounds. It forms when a low-pressure storm system undergoes a process called bombogenesis, which is when the atmospheric pressure drops 24 millibars in 24 hours.
In the northeast, nor'easters and bomb cyclones can easily combine to form a massive storm system that creates heavy rain, snow, powerful winds and frigid temperatures.
This time around the storm may not bring as much snow as it did before, but home and business owners still need to be prepared for the major flooding that is predicted to take place.
Bostonians Need To Be Prepared For Storm Surges
This storm is expected to cause storm surges that have the ability to cause 30 foot tall offshore waves. Bostonians have already been experiencing this with three to five-foot surges occurring during high tide.
A storm surge happens when high winds push water onshore at an abnormal rate. This nor'easter is predicted to generate 80 mph winds, which can cause a huge storm surge.
There are some things you can do to prepare for a storm surge. For one, you should check your property for any vulnerable areas that may allow floodwater to enter. You can also use sandbags to safeguard your property, whether it is commercial or residential.
Locate where your gas and electricity on and off switches are on your property and learn how to turn them off. It may be necessary to do this if your home or business does become flooded. If flooding is imminent, go into your basement and remove any important documents or possessions, since this area of the property is most susceptible to flooding.
If you do not have one already, make sure you have an emergency kit. Keep this kit in an easily portable bag, like a backpack or roller suitcase, and keep it by the front door. It may also be necessary to have an evacuation plan figured out if you do need to leave the premises.
Know Who To Call If Your Home Experiences Flood Damage
If the storm surge does cause your commercial or residential property to become flooded then most likely there will be a significant amount of water damage.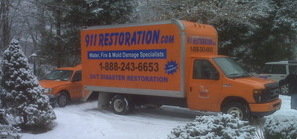 Your basement will probably be the part of the property that will become flooded the most, which will require powerful sump pumps and wet vacs to extract all the water.
911 Restoration of Boston is available around the clock to assist business and homeowners with flood damage restoration work and guarantee to arrive within 45 minutes of receiving your call.
Getting repair workers to your home quickly is crucial to minimizing structural damage, mold growth and salvaging possessions. Immediate assistance will also ensure the safety of everyone that has access to the building.
Safety is the most important aspect of dealing with the effects of a nor'easter, and the technicians at 911 Restoration of Boston always keep that as their top priority when they are called to any home or business. If you find yourself in the midst of exceptionally harsh weather, then you can also reach out to The Red Cross and FEMA any time.