Water Damage Restoration in Boston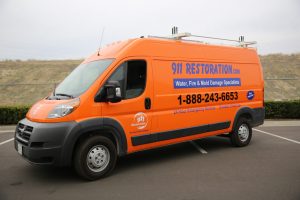 As a property owner in the Boston area, you know that water damage is not only destructive. It's also costly and can occur for a number of reasons ranging from a pipe burst to a leak under the sink. That's why when this happens you need IICRC certified professionals like the ones at 911 Restoration to come and take care of your water damage restoration along with any necessary mold removal. No matter where you are in the Boston area, we guarantee to arrive within 45 minutes of your call ready to get to work.
Water that has been around for 24 hours or longer makes a perfect breeding ground for a mold infestation to develop. Should this occur, your only solution is to get professional mold remediation services along with water damage restoration. At 911 Restoration, we provide comprehensive emergency restoration services to ensure that no matter the damage, you get the Fresh Start you need. Water damage can strike at any time, which is why we are available 24/7/365 to respond whether you're in Boston, Burlington, or any other city in the Boston area. 
Whether you need water damage restoration, mold inspection, or all of the above, the first step is to call 911 Restoration. We'll be there ready to work on delivering a Fresh Start you can count on.
Water Damage Restoration Near Me
Water damage restoration is a complex process best left to IICRC certified professionals. At 911 Restoration, we combine our certifications with additional training honed over years of experience to deliver a tried and true restoration process. Before one piece of equipment is unloaded, we perform a visual inspection to determine the scope of the water damage along with any need for mold removal.
Upon completion of the inspection, we can get started on the restoration. Through the use of commercial grade water extractors and dryers, we ensure that the property is completely dried out. This helps ensure that your support structures aren't compromised, mold doesn't have a chance to grow, and finally, it makes sure that you can get back to normal life quickly. 
Once the water is removed, we focus on any needed repairs to finish delivering a Fresh Start. We are prepared for any possibility of replacing sheetrock and support beams to refinishing the walls. Be sure to call 911 Restoration as soon as you become aware of any water damage or suspect mold. We are ready to handle anything from flood cleanup to mold decontamination regardless of your location in the Boston area. Don't wait to get the Fresh Start you need.
Flood Cleanup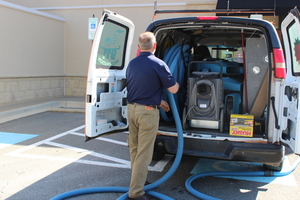 Sometimes water damage reaches extreme conditions known as flooding. One of the areas of the property most likely to have this issue is a flooded basement. The basement holds a number of pipes that all can burst in certain situations. A pipe burst is a surefire way to need flood cleanup services in addition to other restoration services.
Flood cleanup requires a little extra care and step to the water damage restoration process. This is due to the water within the pipes. Depending on the pipe, the water can be gray water, which is full of debris, dirt and other materials. Alternatively, it can be black water if the pipe is a septic pipe. Black water contains raw waste and requires hazmat gear and additional decontamination. In addition the potential health hazards of the water, the water also causes an increased likelihood for the need to have mold decontamination and mold remediation services.
After decontamination is complete, our combination of water extraction and drying can be done. During this part of the process is when mold, if there is any, will be discovered. Should mold be discovered, we will utilize our containment measures before properly disposing of it with our mold removal process. Depending on the exact circumstances, we may determine that a second decontamination is necessary to ensure complete restoration has occurred.
With 911 Restoration of Boston, you can count on everything from flood cleanup and mold inspections to water damage restoration and mold remediation to be handled in one comprehensive service. If you are aware of either problem, don't hesitate to call. We'll provide a Fresh Start whether you live in Arlington, Pinehurst, or another part of the Boston area entirely.
Servicing the cities of Abington, Acushnet, Acton, Allston, Andover, Arlington, Arlington Heights, Ashland, Assonet, Attleboro, Auburndale, Avon, Bedford, Belmont, Beverly, Billerica, Boston, Braintree, Brighton, Brockton, Brookline, Burlington, Cambridge, Canton, Chelsea, Concord, Dedham, Dorchester, Dorchester Center, Dover, Dracut, East Boston, Everett, Fall River, Framingham, Franklin, Haverhill, Hingham, Holbrook, Hyde Park, Jamaica Plains, Lakeville, Lexington, Lawrence, Lincoln, Lowell, Lynn, Lynnfield, Malden, Marlborough, Maynard, Medfield, Medford, Melrose, Methuen, Milton, Natick, Needham, New Bedford, Newton, Newtonville, North Waltham, Norwood, Peabody, Pinehurst, Plymouth, Quincy, Randolph, Reading, Revere, Rockland, Roslindale, Salem, Sherborn, Somerville, Southborough, Stoneham, Stoughton, Sudbury, Suffolk County, Taunton, Wakefield, Waltham, Watertown, Wayland, Wellesley, West Newton, West Roxbury, Weston, Westwood, Weymouth, Wilmington, Winchester, Winthrop, Woburn, and surrounding areas.