Water Damage and Mold Removal in Medford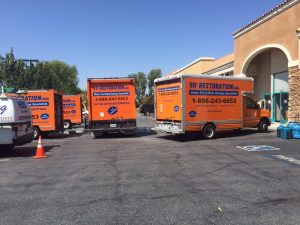 Are you dealing with a flood, snowstorm, sewage backup, or pipe burst in Medford? You can get a Fresh Start following any of these water damage emergencies by contacting 911 Restoration of Boston, 24/7/365. Let our IICRC certified water damage restoration and mold removal techs race out to your property. Flood cleanup crews can:
Reach Properties Around Medford Within 45 Minutes of a Call

Offer You a Water Damage and Mold Inspection

Handle Emergency Water Extraction and Storm Repairs

Pack Out and Store Your Undamaged Belongings

Take Care of Water Cleanup to Renovate and Restore Your Property

Destroy Mold Growth with Mold Decontamination Techniques
All Medford flood cleanup techs are licensed, bonded, and insured to handle water damage caused by plumbing emergencies or natural disasters. We have the resources to deal with home flooding as well as commercial water damage. 
The experts at 911 Restoration of Boston also have experience working with insurance companies in the Medford area. Techs can provide you with a free insurance consultation if you're dealing with a flooded basement, a ceiling leak, frozen pipes, or any other type of water damage event. 
Take the first step in completely restoring your property by contacting us right now. Medford water damage repair and mold remediation techs can complete a water damage and mold inspection now to determine how best to resolve your needs. You can get back your peace of mind after a flood, pipe burst, or sewage backup. Just contact us any time of the day or night.
Does Insurance Cover Water Damage Restoration in Medford?
You may be wondering about your options to pay for water damage restoration and mold removal in Medford. If you have a homeowner's insurance policy, many forms of water damage will likely be covered. Generally, this form of insurance can help pay for damage caused by a:
Pipe Burst

Ice Dam

Wind-Driven Water Damage

Fire Extinguishment 
You should be aware that homeowner's insurance does not cover flooding, some mold infestations, or sewage backups. However, you may be able to get supplemental insurance for sewage backups through your insurance. FEMA offers a National Flood Insurance program if you want extra insurance for flooding.
Additionally, if you have an all-risk or open-peril policy, other forms of water damage – including a flooded basement – may be covered. Speak with the flood cleanup and mold remediation pros at 911 Restoration of Boston to go over your specific insurance policy following a water damage event.
We can review the type of damage you are facing with a water damage and mold inspection in Medford. Based on the results of the inspection, techs can determine the best way to complete water cleanup and mold decontamination for you. We'll work to completely restore your property while working to keep the costs to you as low as possible.
Let our water damage restoration and mold remediation techs return your property to better-than-new condition after any water damage event. 
Will You Need Mold Remediation in Medford After a Flood?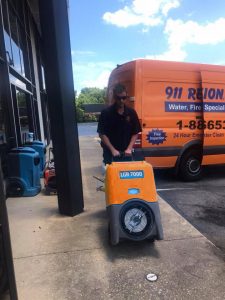 In many cases, mold can infiltrate your property after a pipe burst or a flood caused by melting snow or a hurricane. This fungus can grow quickly, spreading under your floors and behind your walls. However, mold does not become a problem after all floods, especially if you begin flood cleanup and water extraction quickly.
If you suspect you are dealing with a mold infestation, you can contact 911 Restoration of Boston to get a mold inspection. Medford mold removal techs can thoroughly check your property for signs of mold if you had a flooded basement or crawlspace in Medford. If they spot signs of mold growth, they can:
Isolate Areas with Fungal Growth

Send a Mold Sample to a 3

rd

Party Laboratory for Testing

Set Up Air Filters to Get Rid of Mold Spores

Scrub Your Property to Disinfect Infested Areas

Complete Total Mold Decontamination
Once mold remediation in Medford is completed, you should be unable to tell that you ever experienced a mold infestation. Medford mold decontamination techs can even remove odors commonly associated with mold growth, to ensure your property is back in the perfect condition you deserve.
The property restoration experts at 911 Restoration of Boston are standing by to address all of your needs after a blizzard, flood, or pipe burst. Contact us today for water damage restoration and mold removal services if you are dealing with carpet water damage, frozen pipes, a flooded basement, or any other water damage emergency.