Mold Removal in Lawrence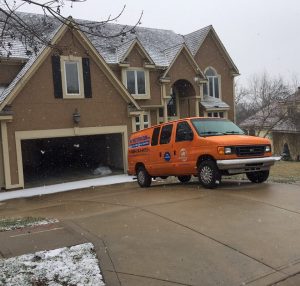 For property owners, very few things are as troublesome as a mold infestation. Mold represents potential problems with water damage if they're not present already. In addition, due to their slow growth, it can take months to discover meaning it has more time to eat away at the organic materials of your property and create health problems for the people within the property. Nothing less than the IICRC certified technicians at 911 Restoration of Boston is needed to handle your mold removal and possible water damage restoration. No matter if you reside in Lawrence, Lowell, or anywhere else in the Boston area we guarantee to arrive within 45 minutes of receiving your call.
While the growth of mold can sneak by, it's less likely to occur if you are aware of the signs of a mold infestation. That's why we have provided a list of the most common signs of mold growth. These signs include:
Rotting wood

Crumbled drywall

Visible mold

Breathing problems

Headaches

Persistent cough

Stale odor
It's important to remember that regular cleaning is ineffective against mold. The cleaners and the scrubbing motions only serve to agitate the mold spores. When agitated, the spores become airborne and spread far past the point of origin. That's why the only effective solution is professional mold remediation.
Regardless of your location in the Boston area, we're ready to assist you with everything from mold inspection to full water damage restoration. Call today to get the Fresh Start you need to move forward.
Mold Removal Companies
When looking for mold removal companies, you need one that provides a tried and tested solution that is still flexible enough to address your specific concern. At 911 Restoration, we have combined our training and experience with industry-leading IICRC certifications to develop a perfected mold remediation process. Before one piece of equipment is unloaded, we perform a mold inspection to determine if mold is present and how far has the contamination spread.
In addition, we also determine the need for water damage restoration. Mold needs a damp environment to thrive, so if mold is detected then the chances are high that you have a leak or something else contributing the moisture levels on your property. Once we have a plan of action, it's time for containment and then mold decontamination. During the mold removal part of the process, we also perform any needed water extraction and drying to prevent the mold from returning later.
The job isn't done until the property is back to good as new. That's why we provide repairs to anything physically damaged by the mold or water. Everything from wall replacement to cabinet installation is covered as part of our comprehensive emergency restoration process.
Customers in Lawrence and surrounding cities know that their mold remediation is in good hands with 911 Restoration. Call today to get the Fresh Start you need.
Flood Cleanup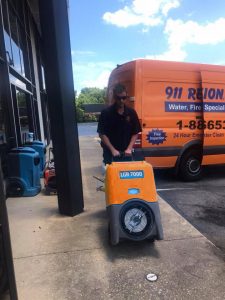 Mold contamination becomes much more likely when flooding occurs. The excess water combined with any contaminants found make a better than perfect environment for mold to thrive in. One of the most common causes of flooding is a pipe burst. Pipe water also automatically contains debris or raw waste depending on the kind of pipe that bursts. That's why in these situations you need flood cleanup services.
Not only does flood cleanup address the volume of water present on the property, but it also allows for mold inspection and mold decontamination should mold be discovered as well. This is necessary to prevent the possibility of toxic mold being present. Toxic mold causes severe health problems and even death if left unchecked for too long.
Put your flood cleanup concerns in the hands of 911 Restoration. Our technicians are trained for every aspect of flooding from mold inspection to water damage restoration. With us, the Fresh Start you need within 45 minutes is only a phone call away whether you reside in Lawrence, Lakeville, or another city in the Boston area.
Servicing the cities of Abington, Acushnet, Acton, Allston, Arlington, Arlington Heights, Ashland, Auburndale, Avon, Bedford, Belmont, Billerica, Boston, Braintree, Brockton, Brookline, Burlington, Cambridge, Canton, Chelsea, Concord, Dedham, Dorchester, Dover, East Boston, Everett, Fall River, Framingham, Haverhill, Hingham, Holbrook, Hyde Park, Jamaica Plains, Lakeville, Lexington, Lawrence, Lincoln, Lowell, Lynn, Lynnfield, Malden, Maynard, Medfield, Medford, Melrose, Milton, Natick, Needham, New Bedford, Newton, Newtonville, North Waltham, Norwood, Peabody, Pinehurst, Quincy, Randolph, Reading, Revere, Rockland, Roslindale, Salem, Sherborn, Somerville, Southborough, Stoneham, Stoughton, Sudbury, Wakefield, Waltham, Watertown, Wayland, Wellesley, West Newton, West Roxbury, Weston, Westwood, Weymouth, Wilmington, Winchester, Winthrop, Woburn, and surrounding areas.