Mold Removal Brockton
When mold begins growing in the homes of those living in Brockton, they can schedule an appointment with us and we will send the mold removal Brockton pros at 911 Restoration of Boston to conduct a free visual mold inspection.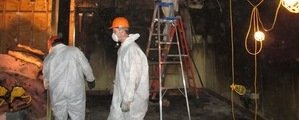 We have the top-of-the-line gear needed to check every corner of your property, ensuring that we will find all traces of fungus and mildew, no matter how hard they may be hiding.
With all of our experience in the industry, our mold removal Brockton crew know that mold usually is a derivative of water damage, so it is important that we are available 24/7/365 to remediate all water-based problems, such as:
Ruptured hoses

Washing machine overflow

Flooding

Leaky shower pan

Ice machine Malfunction

Burst Pipes

Roof leaks

Sewage backups

Appliance malfunction

Water heater explosions
Call our mold removal Brockton unit today and we will provide you with the fast, efficient and affordable mold removal and water extraction services you need!
We Understand All There Is To Know About Mold And Fungus
Mold spores do not need much to flourish and our mold removal Brockton techs want homeowners to know that there are three basic necessities that can cause an infestation, which include nutrients, moisture and time.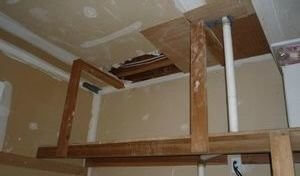 You may think that there aren't many nutrients in a home for mold to consume, but it actually lives off of common home materials, such as cardboard, wood, paper, textiles and skin cells, all which are found in a household.
Once water is added to this mix, then the mold can run rampant throughout the property, and relatively quickly.
The time factor is one of the main issues that our mold removal Brockton experts take very seriously, because fungus can begin growing in as little as 24 hours, which is why fast action is so important.
Call our mold removal Brockton professionals as soon as you think you might have a mold issue, and we will schedule an appointment with us at your earliest convenience.
Mold And Fungus Likes To Hide, But We Will Always Catch It
It is a common misconception that if you have a mold infestation in your home then you will see it growing on your walls or ceiling.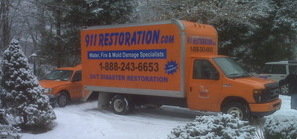 Our mold removal Brockton team wants you to know that there are other signs of fungus before you actually see it, such as a musty smell or the onset of allergy-like symptoms.
Our licensed, bonded and insured mold removal Brockton staff knows the the substance can be found behind wallpaper, paneling, inside of ceiling tiles, behind drywall and underneath carpeting.
We also make sure to check the plumbing that runs inside of your walls, because the pipes can easily leak, creating a mold-friendly environment.
Call our mold removal Brockton technicians at 911 Restoration of Boston and you can be sure you will receive quick, competent and affordable mold removal services today!