Flooded Basement
Living in Massachusetts means living with tornadoes, hurricanes and tropical storms that can flood your basement within minutes, requiring the need for professional water damage restoration services.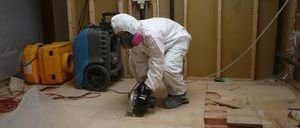 Cracks in your property's foundation can allow water to leak inside and completely flood the subfloor of your home or business. These issues can lead to structural problems and even mold infestations when not dealt with appropriately.
911 Restoration of Boston is equipped with all the tools needed to extract water quickly from your basement and thoroughly dry the area. Their water damage restoration technicians understand that time is of the essence when dealing with a flooded basement, so they stay available 24/7/365 to take your emergency flood cleanup calls.
The water damage restoration team guarantees to arrive at your property within 45 minutes, no matter what time you need their services. They will provide water removal service the moment they arrive on the scene, using top-of-the-line water extraction equipment.
911 Restoration of Boston works with IICRC certified professionals, so you can feel completely safe when you hire us to remediate water damage from your flooded basement. Call the water mitigation staff as soon as you notice signs of a flood in your basement or subfloor and our technicians will give you the peace of mind you deserve.
Comprehensive Flooded Basement Cleanup Services
Many property owners use their basement as a storage area, laundry room, or game room, so when flood water invades the area, the loss that is incurred can be monumental.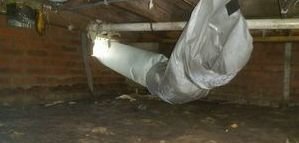 To minimize the basement water cleanup cost, the water damage restoration pros act quickly to remove water from carpet, patch up any water leak in the basement, and thoroughly dry the flooded basement.
Not only will prompt water extraction services minimize the loses but by hiring the water damage restoration team you significantly improve your chances of preventing a basement mold infestation.
Mold spores can begin to grow within 24-48 hours of being exposed to water. Mold lives on organic materials commonly found in basements, such as wood, cotton, paper, and cardboard. This can influence the structural integrity of the property and even create a health hazard.
However, the water damage restoration techs are also trained to clean up any mold in your basement, giving you peace of mind that all aspects of the flooded basement remediation can be handled solely by our team. Call 911 Restoration of Boston when you discover water leak in your basement, and the highly trained technicians will ensure you that you're working with a team that cares and understands your needs.
Does Homeowner's Insurance Cover A Basement Flood?
If you have never had to file an insurance claim for damages in a flooded basement, then you may be unsure what type of coverage you will receive from your policy.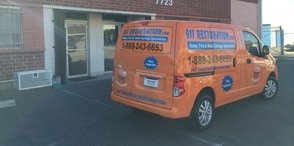 Fortunately, 911 Restoration of Boston has worked with all types of insurance companies, and they are experts when it comes to handling insurance claims.
The staff members will go over your policy with you to determine precisely which services are covered. It can be tricky when dealing with flooding incidents because some insurance companies only cover specific types of flood damages.
For example, if your basement was flooded due to external reasons, such as a nearby river overflowing into your property, then the repair work will not be covered. It is also essential to prove that the flood was not caused by any negligence on the property owner's behalf. If the insurance provider can confirm that the flood was your fault, then they will also refuse to cover the repair costs.
However, there are situations where your insurance company will have to provide coverage for and the staff at the Boston branch will help you prove your case by submitting all the information to your provider.
If you have any questions regarding your insurance policy or if you need more information regarding the water damage restoration services that 911 Restoration of Boston provides, give us a call today!