Storm Damage Boston
Heavy rain from a storm can cause water to leak into your roof and seep into your property's interior, making it necessary to call our storm damage restoration team at 911 Restoration of Boston immediately so we can provide water extraction services.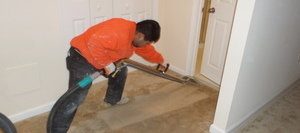 Our professionals are available 24/7/365 to assist you with whatever water disaster you may be experiencing in your commercial or residential property, including frozen pipes and flooded basements.
Once you call our experts, you can sit back and relax, because our repair team will take responsibility for everything your home or business requires to obtain a complete recovery.
When you call our office, our technicians will arrive within 45 minutes of receiving your emergency call, equipped with tools that will allow us to extract water and dry the area the area completely. We work with IICRC certified technicians to provide you same day services that include:
Quick arrival time

Free visual property inspection

Water extraction services

Drying services

Snow damage restoration

Wind damage remediation

Frozen pipe repair

Flooded basement restoration

Frozen roof and window remediation
Our specialists will also provide you with a free estimate upon arrival, so we can determine the exact source of the issue and make sure everyone is on the same page before we begin restoration services. So, call our storm damage Boston crew when you notice snow or water damage in your property and we will prove to you just how dedicated we are to helping you in the midst of a storm.
Heavy Rain And Snowfall Can Cause Flooded Basements
When a bomb cyclone or a nor'easter forms, most likely there is going to be a heavy amount of both rain and snowfall that will impact homes and businesses in the surrounding areas.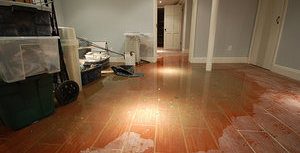 It is important to be prepared for this wet weather because both rain and snow can cause significant water damage to your property if you are not prepared.
The basement is the part of a property that typically feels the most impact. If you have any cracks in the property's foundation water can seep inside and flood the basement area. If the weather is cold enough, the floodwater may even freeze, causing more damage.
To be prepared for such an incident you are going to want to have a sump pump in your basement. This will turn on once it senses water and will begin extracting water. You should also insulate your pipes to prevent freezing, which can lead to cracking and a subsequent burst.
Maintaining your property can help prevent floods from occurring inside your home or business, but if the rainfall is really intense you need to call our storm damage Boston professionals to come assist you with emergency flood damage restoration services right away.
You Will Be Taken Care Of By Our Blizzard Damage Cleanup Crew
When home and business owners are faced with water on their property, it can be very overwhelming, especially when the floodwater is being caused by a storm raging outside.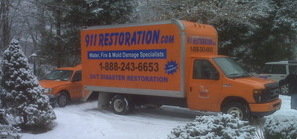 Thinking clearly about what you need to do once your property has been affected by a massive storm can prove to be a difficult task, but our team is here to make everything easier for you.
Once you contact us, we will take over the entire process, allowing you to basically sit back and relax until our experts have finished with the water extraction and drying procedures.
You can rely on our staff members will help you with everything, from implementing the storm damage remediation efforts to going over your insurance policy with you. We will even file your insurance claim for you, making sure your insurance provider gets all the information they need to get you the best financial coverage possible.
We want to make sure you get the fresh start you deserve after a storm has affected your property. So, call our storm damage technicians at 911 Restoration of Boston today!