Mold Removal in Lynn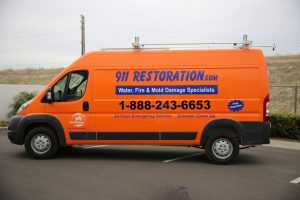 Mold growth is a common yet subtle form of property damage faced by property owners. It builds over time and deals more damage the longer it's left to go untreated. Mold not only eats away organic materials like wood and sheetrock but it also causes health problems in otherwise healthy residents. At 911 Restoration, our IICRC certified technicians are ready to respond within 45 minutes of your call to begin working on your mold remediation. We guarantee our response time no matter if you live in Lynn, Arlington, or another city in the Boston area.
While mold is indeed subtle and needs professional mold removal that doesn't mean that the signs of a mold infestation are unnoticeable. The key to easy mold remediation is early detection. The regular signs of mold contamination include:
Rotted wood

Crumbling drywall

Visible mold

Breathing problems

Headaches

Persistent cough

Pungent and stale odor
Nothing less than professional intervention is needed to perform mold removal. This is because regular methods of cleaning are ineffective and actually make the problem worse. When the mold spores become agitated, they are able to go airborne and spread to new areas. At this point, your mold problem just became bigger.
As soon as you suspect mold, the first step is to contact 911 Restoration. We're prepared to handle everything from mold decontamination and mold inspection to full mold remediation. With us, a Fresh Start is a phone call away no matter where you live in the Boston area.
Mold in the Basement
Mold thrives in dark and damp places. That's why the basement and the attic are the most common locations on the property to discover a mold infestation. Regardless of the location of your mold, the process of mold decontamination and mold remediation is straightforward for the technicians at 911 Restoration. Our years of experience and training have allowed us to hone our process to flawless quality. That's why our first step is to perform a mold inspection. Not only does this help us detect if mold is present but will also inform us if water damage restoration is also needed.
After the presence of mold has been contained, we use the latest containment measures such as vapor barriers to prevent the mold from spreading to other areas. The next step is mold decontamination and then mold removal. In some cases, the amount of water is severe enough that water damage restoration becomes necessary. At 911 Restoration, we provide a comprehensive restoration service that includes both mold and water damage.
Part of that restoration includes making any needed repairs to your property to get it back to good as new. Crumbling drywall or rotted wood needs to be replaced to keep the structure secure. We handle those concerns in order to deliver a complete and thorough emergency restoration to our customers in Lynn and the surrounding Boston area.
Everything from water damage restoration to mold remediation is available when you contact 911 Restoration. Don't wait to get the relief your property needs for a Fresh Start you can breathe easy in.
Flood Cleanup and Mold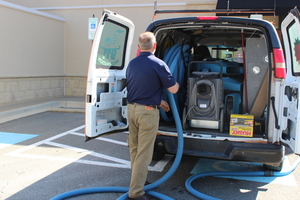 Sometimes, flooding occurs for property owners. This is most common in the basement due to the pipes running through the room that can lead to a pipe burst. When flooding occurs, professional flood cleanup services are needed. Flood cleanup requires additional steps to prevent the need for mold removal. However, the large influx of water may not prevent the development of mold. That's why prompt and immediate action is needed.
Flood water will often have contaminants within ranging from debris to raw waste depending on the pipe that bursts. This not only increases the likelihood of mold but also makes black mold more likely. Black mold is not the only toxic mold but it is the most deadly. If left for too long, severe health problems can develop including organ shutdown and possibly death.
That's why when mold is suspected during a flood cleanup, we don hazmat gear to keep ourselves protected. With the possibility of toxic mold or contaminated water, we don't skimp on our mold decontamination practices. We use industrial strength cleaners and detergents to eliminate all traces of mold and contaminants. In addition, we make sure the property is completely dry so that mold can't come back a couple of months later.
Whether it's a mold inspection or flood cleanup, we have you covered. Call 911 Restoration of Boston for the Fresh Start you deserve.
Servicing the cities of Abington, Acushnet, Acton, Allston, Arlington, Arlington Heights, Ashland, Auburndale, Avon, Bedford, Belmont, Billerica, Boston, Braintree, Brockton, Brookline, Burlington, Cambridge, Canton, Chelsea, Concord, Dedham, Dorchester, Dover, East Boston, Everett, Fall River, Framingham, Haverhill, Hingham, Holbrook, Hyde Park, Jamaica Plains, Lakeville, Lexington, Lawrence, Lincoln, Lowell, Lynn, Lynnfield, Malden, Maynard, Medfield, Medford, Melrose, Milton, Natick, Needham, New Bedford, Newton, Newtonville, North Waltham, Norwood, Peabody, Pinehurst, Quincy, Randolph, Reading, Revere, Rockland, Roslindale, Salem, Sherborn, Somerville, Southborough, Stoneham, Stoughton, Sudbury, Wakefield, Waltham, Watertown, Wayland, Wellesley, West Newton, West Roxbury, Weston, Westwood, Weymouth, Wilmington, Winchester, Winthrop, Woburn, and surrounding areas.