3 Surprising Disasters Not Covered by Homeowner's Insurance
One of the main issues 911 Restoration Boston finds when responding to disasters is that the insurance does not cover the situation with the basic homeowner's insurance that our customer has purchased. In an effort to help you understand what is covered in your premium, we have compiled a list of surprising issues that are not covered by your insurance provider, such as rising water, long standing mold, and even sewage backup. You do not want to be footing the bills for these catastrophes even with our affordable price, because you have more important matters to spend your money on.
Floods
Our customers often find out the hard way that their homeowner insurance does not cover flood disaster: after the flooding has occurred.  While homeowner's insurance does cover rain leaks, pipe burst, and other such issues, it does not provide funding for instances caused by rising water, such as a flooded river, tidal wave, or any other moisture that touched the ground before your home.
To protect your finances from such a dilemma, file for flood insurance. Together, homeowner's and flood insurance will completely protect your home from plumbing disasters, storms, and flooding rivers. 911 Restoration also has the power to restore your home after any of these events, so call us at the first signs of disaster and we will help make sure you get all the insurance coverage you deserve.
Mold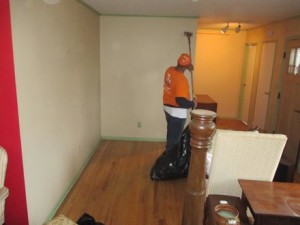 Everything gets worse when mold is thrown into the situation. If your insurance policy does not account for the way your disaster occurred, it also won't protect you from the ancillary effects, such as mold growth. In addition, you have to be able to prove mold was not a preexisting condition, but spawned as part of the disaster which is covered under your insurance policy. and was not a preexisting condition. Our 911 Restoration technicians are excellent at diagnosing this and can help you get full coverage from your insurance policy.
This mold rule though spreads further than the spores of the fungus. With any type of damage, including fire or otherwise, if your insurance adjuster discovers negligence is at fault, you will likely lose your coverage. Part of signing up for homeowners insurance is to take steps against disasters with preventative maintenance.
Take care of your home, and it will take care of you.
Call 911 Restoration Boston for a free visual mold insulation and ideas on how to safeguard your property from water, fire, and mold. If the cause of mold is covered, the mold will be covered.
Sewer Backup
Sewage backup is an inevitable issue that happens as the infrastructure gets older. Municipal water lines are not meant to last more than a century, and many American suburbs are quickly reaching that milestone. When sewage lines fail and black water powers back into your yard and bathroom, your homeowner's insurance will not be enough to cover it. If the incident started on the city's side of the line, the city may cover it, but it is still best to protect yourself, your home, and your finances by carrying an additional policy on your insurance specifically for sewage. This addition usually runs about $50 a year, which is a small price to pay to avoid the out-of-pocket expense for extensive damage. Prepare yourself with this advice from 911 Restoration and call us for the best chance at being covered when disaster does strike.